ADB Highlights tru2way Success on Cisco, Moto Headends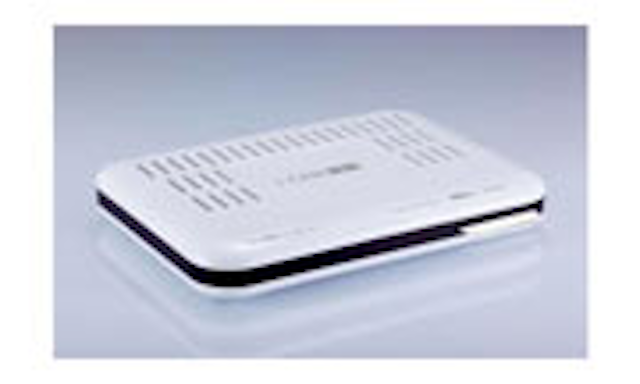 At a recent
CableLabs
Interop event,
Advanced Digital Broadcast
showed how its ADB-4820C high-definition set-top box can support the full functionality of both
Cisco
and
Motorola
tru2way headends and CableCARDs. The ADB-4820C was first connected to a Cisco headend using a Cisco CableCARD, and displayed
Time Warner Cable's
TV channels and tru2way interactive guide. Next, without powering down the set-top, the CableCARD was removed from the box and replaced with a Motorola CableCARD. The box then automatically connected to the Motorola headend, and in less than five minutes displayed Comcast's TV channels and tru2way interactive guide, according to ADB. A video of this demo is available at
http://www.adbglobal.com/?q=node/429
.
The ADB-4820C is designed as a "set-back" box, so it mounts to the back of a plasma or LCD TV panel and uses HDMI-CEC technology to enable a single remote control to be used for both the TV and the set-back box. ADB points out that having the box mount on the back of the flat panel makes it ideal for hospitality applications. The device has been developed to meet the low-energy consumption levels set by standard bodies. The ADB-4820C has been tru2way certified since early 2008.
NETGEAR Snags D3 Certification for Modem and Gateway
NETGEAR's
CMD31B cable modem achieved DOCSIS 3.0 certification in
CableLabs
Certification Wave 71. The CMD31B bonds eight downstream and four upstream channels, exceeding the minimum 4 x 4 requirement of the DOCSIS 3.0 spec. The resulting data rates are up to 320 Mbps downstream and 120 Mbps upstream.
In related news, NETGEAR's CG3200D Wireless-N voice/data cable gateway also achieved DOCSIS 3.0 certification in the same CableLabs certification wave. The CG3200D delivers DOCSIS 3.0 service via four Gigabit Ethernet LAN ports and 802.11n wireless. The resulting data rates are up to 160 Mbps downstream and 120 Mbps upstream.
RGB, OpenTV Demo Advanced Ad Capabilities
RGB Networks
and
OpenTV
collaborated with other partners to demonstrate several advanced advertising capabilities for cable operators at the recent Advanced Advertising 1.0 Platform Interoperability event held by
CableLabs
.
Enabling the demonstrations were RGB's Broadcast Network Processor (BNP) and OpenTV's campaign management solution, which integrated to show how operators can generate new ad revenues through localized, audience-focused, overlay-based advertisements that can be inserted into either linear programming or VOD content. The demonstrations were based on several existing and developing standards, including the new Enhanced TV Binary Interchange Format (EBIF), which enhances ads by enabling viewers to interact with them, such as requesting additional information or participating in voting or polling. The companies showed two types of EBIF demonstrations:



"Pre-bound" in which EBIF data was embedded into traditional video ads that were then inserted into programming by the BNP during local ad availability spots



"Late-binding" in which EBIF data was dynamically inserted by the BNP into network programs, network ads and during local ad insertion events, allowing for addressability.



Also demonstrated was network-based, late-binding overlay insertion utilizing the BNP's SCTE 130 Ad Management Service (ADM) and the OpenTV Ad Decision Service (ADS), which allows for broader coverage of graphic overlays to set-top boxes and any other downstream MPEG subscriber device.
Sandvine, Optenet Launch Integrated Parental Controls Solution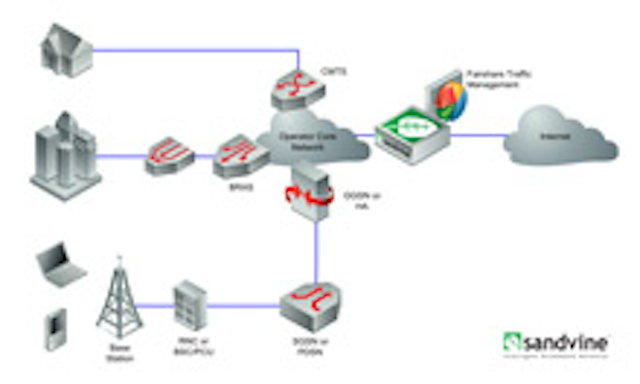 Sandvine
and
Optenet
partnered to launch optimized parental controls for broadband subscribers. The integrated solution leverages Optenet's content filtering and threat analysis technology and Sandvine's application- and subscriber-awareness to provide Web protection with scalability and configurable, per-subscriber granularity. It allows operators to provide an integrated residential broadband service, including enhanced parental control capability. End users do not have to seek additional protection from a third-party security vendor.
The joint solution provides real-time classification of Web content, with the capability for subs to configure preferences at an individual and household level to determine what content is acceptable. These preferences are stored within the solution architecture, so changes to browser configurations will not impact the parental controls in place.
NetScout Extends nGenius Service Assurance Solution
NetScout Systems
announced the extension of its Unified Service Delivery Management strategy and framework with the availability of nGenius Subscriber Intelligence, providing scalable subscriber session-level analysis for next-gen IP networks. As an integrated software module for the nGenius Service Assurance Solution, nGenius Subscriber Intelligence provides mobile operators a session-oriented view of the subscribers' experience for voice, video and data services. This reportedly enables mobile operators to track real time and historical performance metrics from aggregate service views, to individual subscriber sessions, down to deep packet-level analysis to better optimize the service delivery environment and simplify and accelerate the identification of service delivery problems in 2.5G and 3G wireless technology environments.
Deployed at more than 120 service providers in 39 countries, the nGenius Service Assurance Solution provides a unified service delivery management framework to deliver real-time and historical analysis and reporting for complex multi-protocol IP networks. The nGenius solution captures and analyzes both user plane and control plane IP traffic to enable a granular understanding of subscriber experience along with network, application and service performance. In addition to supporting wireline and cable operator environments, the nGenius solution has been deployed in IP mobile networks and is said to provide a direct path to support evolution to IP Multimedia Subsystem (IMS) implementations and fourth generation (4G) technologies such as Long Term Evolution (LTE).
New SCTE Member Benefit: Technical Implication Papers
SCTE
is organizing the development of technical implication papers as a new benefit for members. Scheduled to be developed quarterly beginning in 2010, they will explore the ramifications of implementing any of an assortment of hot topic technologies. SCTE will arrange authorship of the implication papers by issuing Requests for Proposals (RFPs) to its Call for Papers database and selecting the most qualified abstracts. Each implication paper must adhere to the quality standards of the SCTE Professional Development (SCTE Pd) brand and must attain SCTE Pd approval.
SCTE says the papers will be tailored to meet the needs of installer/field operations professionals, corporate/division managers and executive managers, including CEO/CTOs.
The inaugural SCTE implication paper, "Deploying Enhanced Media Services with MoCA," was developed by
Spirent Communications
. Unlike future providers of SCTE implication papers, Spirent was specifically approached by SCTE and asked to provide the first installment.