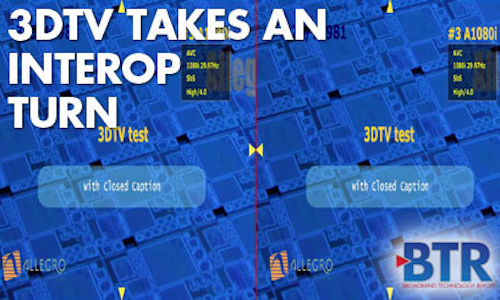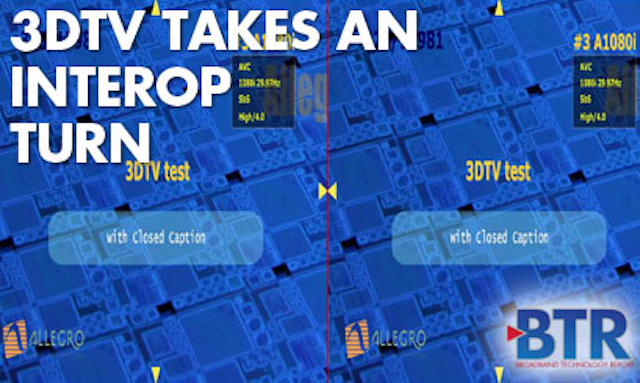 This week
CableLabs
is opening the doors of its 3DTV Lab in Louisville, CO, for an interoperability event that will give set-top box, TV set and test equipment vendors access to new test streams based on the OpenCable 3DTV requirements.
These qualified test streams address frame compatible formats, including video codec, resolution and frame rates. They were developed by a French company called
Allegro DVT
, which after being selected through an RFP process, worked closely with CableLabs to address all of the applicable requirements found in the OpenCable specification.
"The test streams are a tool built to and based on the OpenCable specifications," said Pierre Marty, Allegro CEO. He added that the streams also test dynamic changes between various 3D formats and the transition between 2D and 3D formats.
Automatic Detection
In other words, with the industry driving toward a place where set-tops are able to automatically detect 3D signals and alert the TV set that a particular flavor is coming down the pipe, these new test streams will help exercise the chain from the cable plant, through the set-top and the HDMI connection to the TV set. When the vendors gather this week at the Interop, they will be able to validate that the signal is not interrupted or distorted at any point.
This approach differs from the past, when CableLabs only was able to provide access to sample 3D streams from different TV studios. While those samples were representative, they were not qualified or traceable, like those now available from Allegro.
Allegro's streams are encapsulated in MPEG TS format at 38.8107 Mbps, which happens to be the maximum payload rate for a 256-QAM channel. As such, they can be injected directly into a cable network, Marty said.
"The pass/fail criteria is based on visual inspection of the decoded video content and does not require any specific analysis equipment .... The streams are very easy to use and can be utilized without a deep technical expertise," Marty said.
Aside from being utilized at the Interop event this week, Allegro's test streams are available commercially, and the company will continue to refine them. Specifically, there are plans in the works to include high bit rate streams to validate the TV/STB worst case decoding performance, Marty said.
In other CableLabs news:
Monta Monaco Hernon is a free-lance writer. She can be reached at mcmhern@yahoo.com.