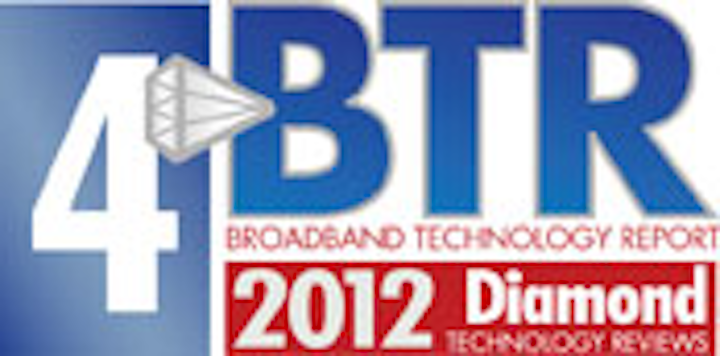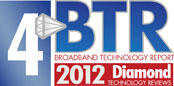 One Diamonds judge referred to the APEX 3000 as an "edgy" edge QAM that "pushes the envelope on performance, density and redundancy," and another proclaimed that it "rules video QAMs."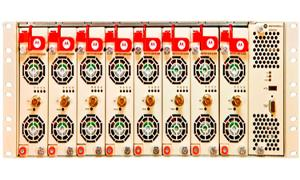 The APEX 3000 features 32 RF ports in a 4RU chassis and supports up to 48 QAM channels per RF port for a maximum of 1,536 QAM channels. Using a pay-as-you-go upgrade model, the number of QAM channels per RF port is configurable from 16 to 48. The solution's density reportedly helps to reduce operational costs and power consumption as the power draw is less than 1 Watt even at maximum density.
Motorola Mobility
also is billing the APEX 3000 as a QAM delivery platform for distributed Converged Cable Access Platform (CCAP) deployments, where DOCSIS channels would be transmitted to an external edge QAM by an M-CMTS. "A distributed deployment still paves the way for an integrated CCAP architecture, but it also provides flexibility in the migration from traditional data and video infrastructures to the new CCAP model of delivery," said Jeff Walker, Motorola's director of CMTS product marketing.
Demand for narrowcast video channels is driving operators to install high-density edge QAMs, but they won't necessarily need the full capacity. A portion of the unused eight to 16 QAM channels per port could be allocated to DOCSIS traffic down the road, Walker said, noting that a distributed CCAP approach "provides flexibility for meeting today's needs as well as tomorrow's."
www.motorola.com/mobility
See them at Cable-Tec EXPO, Booth 2812
Return to the BTR Diamond Technology Reviews Elite.