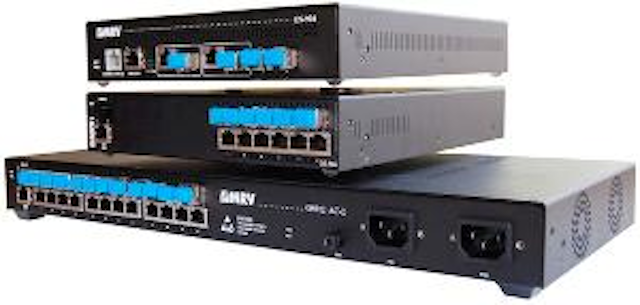 MRV Communications
' Optical Communications Systems (OCS) division participated in interoperability testing with the new
CableLabs
specifications for DOCSIS Provisioning of EPON (DPoE). MRV showcased its OptiSwitch Carrier Ethernet Access solution and worked alongside other vendors, demonstrating interoperability among eight DPoE systems, seven DPoE ONUs, and four Ethernet Demarcation Devices. The event focused on PON-layer registration, provisioning, and operational systems support interfaces (OSSI).
MRV's OptiSwitch family is a line of compact carrier Ethernet switching platforms that range from the OptiSwitch 9000 metro Ethernet aggregation products to the OS900 demarcation series. OptiSwitch products are designed to offer service providers a full suite of carrier-grade Ethernet services along with high availability, enhanced QoS, security, TDM circuit emulation, and Ethernet operation, administration and maintenance (OAM) support. The suite of OAM tools is designed to create flexible service awareness and rigid SLAs. OptiSwitch products meet
IEEE
,
ITU
,
IETF
standards and
MEF
specifications.
DPoE 1.0 specifications were announced at Cable-Tec Expo in October. The first interoperability testing was concluded at CableLabs from Jan. 24-28 and included chip and component manufacturers and equipment vendors as well as system integrators. DPoE specifications provide requirements for Ethernet PON (EPON) equipment to be provisioned using current DOCSIS provisioning systems and service concepts. The specifications also define requirements and functionality to support MEF Ethernet Private Line (EPL) service for business customers.