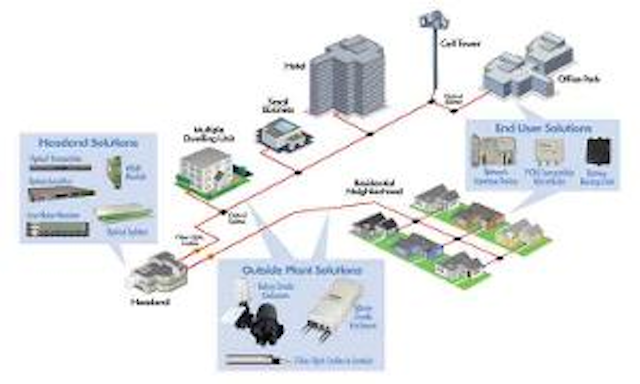 At the ANGA Cable Show in Germany,
CommScope
is showcasing and demonstrating its various solutions, plus its new brand identity. Solutions of primary interest to cable operators are the company's new fiber-optic micro cables and BrightPath Optical Solutions.
At the show, CommScope introduced a new line of fiber-optic micro cables for OSP applications in the European broadband market. The micro cables are designed for installations into microducts, technology commonly used in congested areas. The new micro cable portfolio includes both a stranded loose tube and central tube design. The stranded loose tube design is available in counts up to 144 with outer diameters varying from 5.6 to 8.2 mm. The central tube design is available in counts up to 24 with outer diameters ranging from 3.5 to 4.2 mm.
The company's BrightPath Optical Solutions (BOS) is also being showcased for scalable end-to-end FTTx solutions. BOS is set across multiple fiber architectures and comprises a suite of headend, outside plant and end-user solutions. It employs DPoE, RFoG and HFC node segmentation. The company is also highlighting its latest DPoE products including the Edge 10 OLT and C5000 ONU, as well as High Power RFoG MicroNodes.