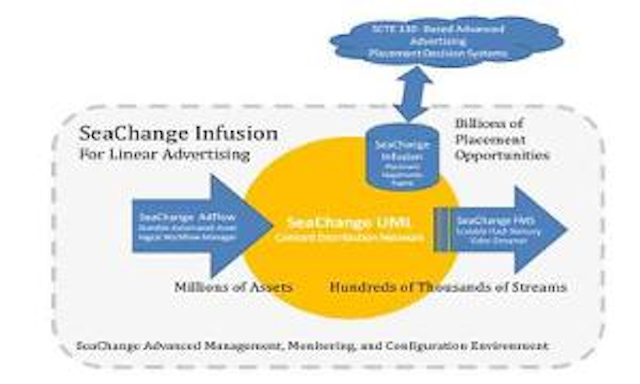 SeaChange International
announced its new generation SeaChange Infusion Advanced Advertising Platform, which the company says is designed to help video operators manage centralized ad operations and scale to 150,000 insertable channels and millions of ad assets. The platform's foundation is the new Infusion Linear Advertising Server, shipping later this year, designed for linear ad insertion in an open plug-and-play environment.
The platform is designed to scale to support operators' migration to consolidated regional and national advertising systems that are managed from increasingly web-centric and virtualized datacenters.
Features include software and server scalability to serve up to 150,000 ad-insertable TV channels from a single datacenter location; ad libraries scaling to greater than 5 million advertising assets in a single ad insertion system; implementation of standards including SCTE-130; real-time, on-the-fly system configuration and upgrades; and web-based, open source management, monitoring and configuration tools.