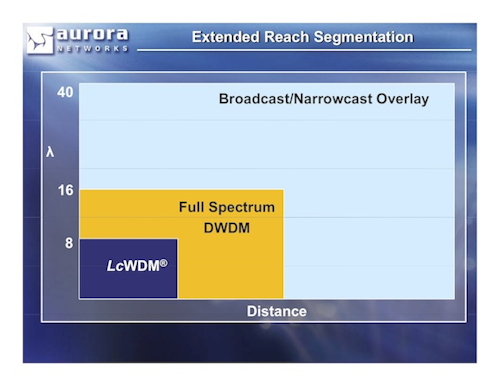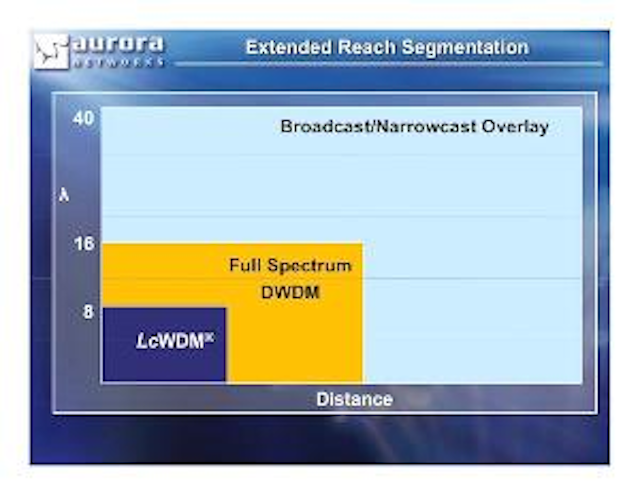 Aurora Networks
is highlighting what it calls its segmentation toolkit, up- and downstream technology to help cable operators cost-effectively increase network bandwidth. Optical passives are designed to enable operators to implement full downstream and upstream segmentation for multiple nodes on one fiber.
The company's downstream segmentation solutions include the AT3545G 'C'-band DWDM full spectrum transmitters, broadcast and narrowcast overlay with up to 40 narrowcast wavelengths on one fiber, and LcWDM 'O'-band full spectrum transmitters that support up to eight wavelengths over shorter reaches.
Aurora offers two scalable, modular node platforms, the NC4000 and the NC2000. Both are compatible, sharing the same modules and providing support for access modules including Node PON and Fiber on Demand. The NC4000 supports 4x4 segmentation, and its modular design is intended as a launch pad for new high-capacity services with the addition of access modules. The NC2000 has a bottom-entry, low-profile design and support for 2x2 segmentation, for evolution toward RFoG, RFPON and GEPON.
On the upstream, Aurora's digital return technology is optimized for segmentation, with more than 80 return segments supported on one fiber. The company's CWDM solution supports up to 15 wavelengths, and its DWDM solutions support up to 40 wavelengths.