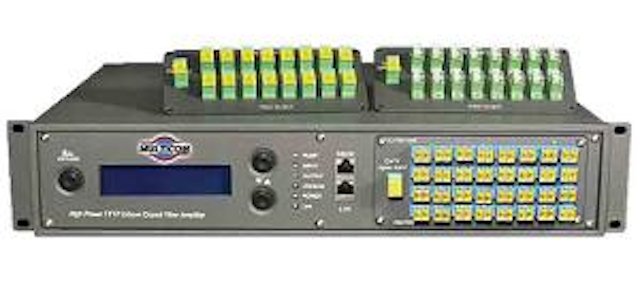 Multicom
has added a 2 RU EDFA optical amplifier, the MUL-2RU-EDFA-1550, to its fiber-optic product line. The MUL-2RU-EDFA-1550 is intended for use in RFoG, GPON, and FTTHx networks, including Broadband Stimulus and
FCC
National Broadband projects and applications. It's also designed for long haul transmission, hub interconnects, 1,310/1,550nm overlays, and other applications.
Features include configurations of up to 64 ports, up to 4,000 mW total power, internal WDMs, interactive front LCD display and control panel, and serial and SNMP interfaces.
Multicom's fiber-optic line includes the Optical Transport Chassis and Return Path Receiver Module, 1,310 nm and 1,550 nm optical transmitters, optical receivers, optical micro-nodes, RFoG ONUs, and 1,310/1,550 WDMs. It also includes
Corning
fiber products and a selection of fiber accessories, splitters, jumpers, pigtails, and media converters.