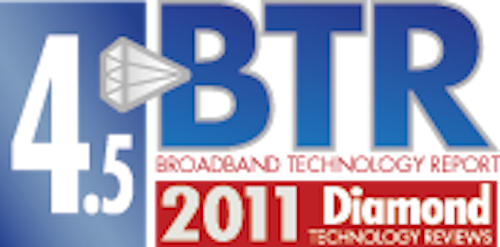 The Diamond judges were electrified by this next product, which in less than five minutes, is reportedly capable of testing the whole home network to the full frequency range, including MoCA. In fact, it even had one judge declaring, "I want one of these to test my house!"
The JDSU probe displays a plot of the network topology on the DSAM and indicates the locations of impairments, providing the distance from the outlet or network component. No CPE interaction is required, so MoCA frequency capability can be tested even before the service is installed, JDSU notes.
As many in the industry know all too well, home wiring is one of the most difficult areas for operators, with full testing being a time-consuming and complex process, one judge said. A probe that offers a comprehensive analysis is tremendously valuable, especially related to high-capacity upstream operations, where the more difficult regions of the 5-42 MHz upstream spectrum must be brought into use.
The panel's only critique: Based on information provided, it wasn't possible to determine whether this system will be capable of being updated to handle future alternate spectrum splits (e.g., 5-85 MHz reverse, etc.).
http://www.jdsu.com
See them at Cable-Tec EXPO, booth 864