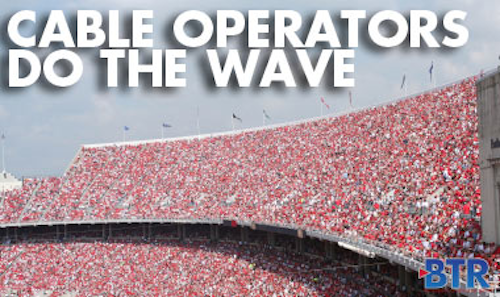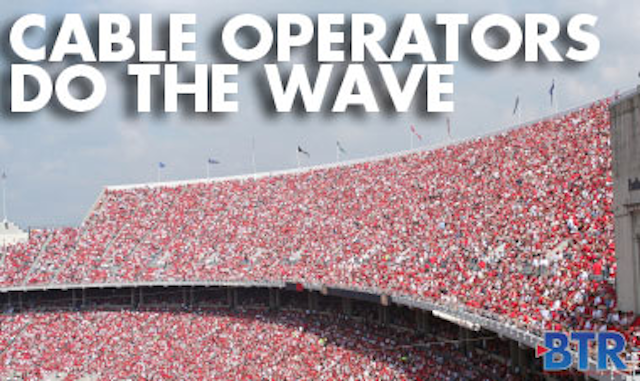 Wavelength division multiplexing (WDM) equipment, which increases the throughput of networks by using ever-more closely spaced channels in a fiber to carry data and increasing the throughput of each channel, has long been an industry staple.
The explosion of data cable operators are called on to push through their networks is pushing demand for the equipment to higher levels, however. "The cable industry is very active in deployment of WDM technology, in particular the use of 40 Gig and [evaluating use of] 100 Gig waves both in the long haul and metro network," said Mark Bieberich, the senior director of marketing intelligence for
Ciena
.
WDM is even more attractive than the raw numbers suggest. Some technologies grow in popularity because of a single driver. There are so many uses of WDM, however, that the upward trend is unlikely reverse itself. Drivers include over-the-top (OTT) video, content delivery networks (CDNs), commercial services and cellular backhaul. It is being felt in the local, regional and long-haul sectors. "I think the growth is fairly even [across the metropolitan and long haul networks]," Bieberich said. "The compound annual growth rate in the next couple of years will be in the low double digits, 10 to 13% range."
Bieberich said cable's overall growth rate is slightly larger than telephone companies, though the MSOs are growing from a smaller base and one that is less encumbered by legacy technologies such as SONET and SDH.
News from Infinera
Infinera
is the latest to make news. In mid-September, the company introduced the DTN-X, a WDM and open transport network [OTN] platform capable of multi terabit per second operation. It will be available early next year, with a multi-protocol label switching (MPLS) version following in early 2013.
The heart of the platform is what it calls its Photonic Integrated Circuit, or PIC, said Gaylord Hart, Infinera's director of marketing for the cable sector. Most 10 Gbps WDM platforms work entirely in the optical domain. Conceptually, it's simple: The laser simply turns off and on extremely quickly, with the off position representing a zero and the on position a one.
Hart said this switching -- sending signals in a mesh to their proper receivers -- runs up against fundamental physical and related financial issues at 40 and 100 Gbps. The modulation scheme necessary to keep such a system operating smoothly despite an order of magnitude jump in speed is complex, which adds to the number of components and the cost.
Infinera's approach is to transition from an optical to an electrical signal for the switching. The signal is transferred back to optics once it is switched. Optics, Hart said, are only used for the actual transport. The system supports an integrated switching fabric. All of these functions are integrated in a single, low-cost manufacturing process, Hart said.
The DTN-X will be optimized to fit into cable's Ethernet-based architecture, Hart said. "We actually have MSOs that will be ready to deploy it when it becomes available," he said. "There is 50 to 75% growth in data this year, and there doesn't appear to be any letup on it. Operators want to take advantage of the fibers they already have in the ground. They do see the immediate needs."
The platform offers 100 Gbps channels and 500 Gbps "super channels." The pure throughput isn't the key, however. "That's not what's special about what makes Infinera special or the DTN-X special," said Ron Kline,
Ovum's
principal analyst for network infrastructure. "What is new is the concept of optical-to-electrical conversion, which is very expensive. Infinera makes it cheap. They have integrated the lasers into a chip."
Eve Griliches, the principal analyst at
ACG Research
, said that product is a fit for operators. "The reason Infinera is a good match for cable networks is that it offers very cost-effective transmission capabilities. The cable guys really are cost conscious. It also has a lot more flexibility in the metro network than some of the other products out there."
Infinera and Ciena are not the only vendors that supply WDM or its cousin, dense wavelength division multiplexing (DWDM), products to the cable industry, of course. Some other supplies include
Cisco, Alcatel Lucent
and
Huawei
.
Bieberich said Ciena's flagship 6500 product can be configured for either long haul or metro utilizations. That approach -- in which the same basic platform is outfitted for use at metro, regional and long distances -- is the trend in the industry, he said.
Infinera, at least to ACG's Griliches, has the inside track -- and at least for now. "I think all the competitors will respond," she said. "The problem is Infinera has a unique technology and no competitor can respond and deliver the exact technology that they can. They can respond with other technology that may or may not be cost competitive. It will be interesting to see."
Carl Weinschenk is the senior editor for Broadband Technology Report. Contact him at carl@broadbandtechreport.com.