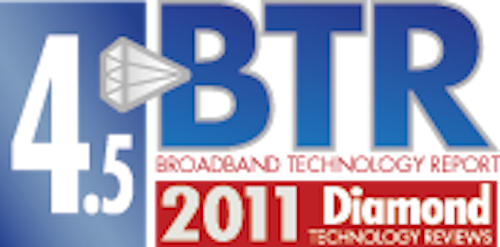 Set to ship in the fourth quarter of this year, Motorola's DCX3600M is intended to be a video gateway that enables service providers to shift to IP in the home and thus easily deliver new services to consumers. This first of a new generation of converged set-tops promises a wealth of ground-breaking features, indicated one judge.
The gateway includes built-in transcoding capabilities, allowing it to take QAM MPEG-2 services and transcode to MPEG-4 for delivery to mobile devices, including tablets and smartphones, over the home network, according to Motorola. It also will provide operators with the flexibility to deliver a mixture of QAM and IP services, tuning up to six QAM services simultaneously or accessing IP services delivered directly over DOCSIS.
The Diamonds judges also were wowed that the product:



Uses the full simultaneous six-stream capability of the M-card CableCARD standard



Can stream content with its voluminous 1 TB HDD through the home via MoCA 2.0



Implements the latest wideband tuner technology, allowing the simultaneous tuning and demodulation of up to eight downstream QAM channels from anywhere in the forward (54-1,002 MHz) passband



Includes channel bonding support for eight downstream and four upstream DOCSIS 3.0 channels



In a nutshell, "this gateway will not only allow whole-house DVR, but will satisfy the growing demand for 'any screen' content delivery," said one judge, and so seamlessly that customers won't care how the content is delivered to the home, another judge added.
http://www.motorola.com
See them at Cable-Tec EXPO, booth 1268
Return to the BTR Diamond Technology Reviews Elite
.