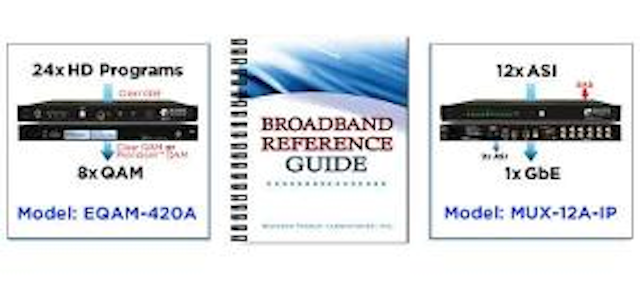 At Cable-Tec Expo in Atlanta,
Blonder Tongue Laboratories
will demonstrate a hospitality edge QAM solution and a new multiplexer. The company will also release its updated and enhanced 
Broadband Reference Guide
.
The EQAM-420A is designed to enable operators to deliver free-to-guest HD programs in the hospitality market. The unit is designed to be installed at the edge of the operator's IP-over-fiber core transport network, for example a hotel building, and to transcode up to 24 HD MPEG-2 or H.264 programs from IP to QAM RF channels. To prevent content piracy of the HD programs and comply with hospitality requirements, the EQAM-420 will encrypt the RF output with Pro:Idiom technology all the way to the TV set in each hotel room. GUI based remote monitoring and control capabilities, including SNMP-based management, permit the operators to remotely manage, operate and troubleshoot the network via any standard web browser.
The MUX-12A-IP (Multiplexer; 12:1 ASI-to-IP) is designed to accept up to 12 inputs in ASI format, each containing up to 12 unencrypted programs. From the possible 144 input programs, the operator can select 20 and multiplex them into up to four MPEG-2 or H.264 transport streams. The multiplexed streams are then encapsulated and assigned to a GigE output for a UDP or RTP and unicast or multicast distribution over any standard Ethernet network. The unit is also designed to let the operator re-assign PSIP information for each of the 20 output channels to create virtual channel numbers and names that are then embedded into the streams. Remote monitoring and control, including SNMP and SysLog features are provided via a GUI-based interface using any standard web browser. The multiplexer is also equipped with an EAS interface.