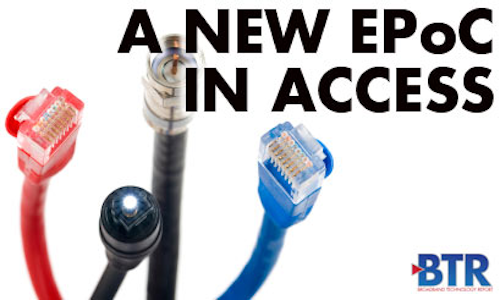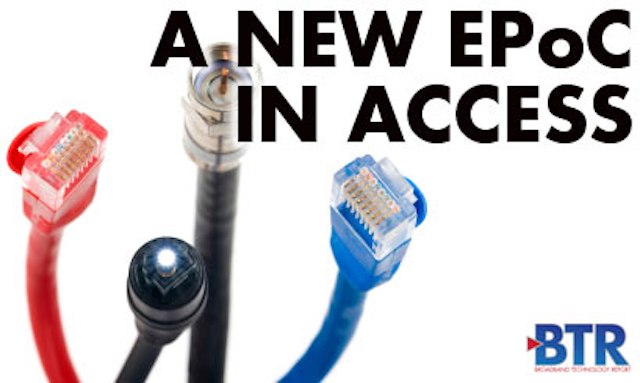 The one great truth about bandwidth is that there's never quite enough of it.
With the addition of new services such as multiscreen IP video to cable's traditional offerings, plus competition from over-the-top (OTT) video, the bits to be moved over cable's networks are increasing faster than the capacity to move them.
Two tried-and-true options for increasing throughput to the end-user are to either add more spectrum or use a different form of modulation. The
IEEE
is looking to do both with one new specification, dubbed "EPoC."
What It Is, How It Works
The IEEE 802.3 EPON Protocol over Coax (EPoC) Study Group has been formed to investigate a new PHY standard for operating the EPON protocol transparently over existing coax networks. The idea is to increase throughput and to stick with only one protocol from end to end, said Howard Frazier, chairman of the study group and senior technical director at
Broadcom
.
"They [cable operators] are very attracted to being able to use Ethernet end to end," Frazier said, adding that Ethernet is very mature and very highly developed. "Now cable gets to leverage all this."
Among its other upsides, 802.3 is designed for symmetric data rates of 1 Gbps and 10 Gbps, as well as asymmetric data rates of 10 Gbps downstream and 1 Gbps upstream. Actual throughput over HFC cable plant would vary, said Paul Whittlesey, director of product management for
Aurora Networks
, one of the project's supporters.
"It's all about how much bandwidth you give up from the video space," he said, generally about 120 MHz of spectrum per 1 Gbps of downstream speed.
The implementation is at the physical layer, mostly layer 2. It's an adaptation of QAM and OFDM, Whittlesey said, and is intended to coexist with the current network. It can be placed within the existing frequency plan (with appropriate guard bands) or above it, depending on amplifier and passive roll-off.
"Media conversion would be done closer to the edge" such as at a node, he said. "At the home, you'd have an RF ONT rather than a fiber ONT."
Garnering Support
The project has support on the MSO side from
Bright House
,
Cogeco
,
Comcast
,
Cox
and
Time Warner Cable
. Frazier emphasized that the effort is something the cable operators have asked for rather than something the IEEE is pushing.
"We're not trying to cram this down their throats," he said.
CableLabs
and the
Technical Working Committee of China Radio & TV Association
are also supporters. The
SCTE
isn't officially signed on, but favors the idea.
Steve Oksala, the SCTE's vice president of standards, wrote in response to e-mailed questions: "Taking the PON work being done in IEEE for fiber and adding coax to the available distribution mechanisms is a further step forward for the cable industry. We look forward to the results, and will work with the IEEE if necessary to ensure its success."
The Road Ahead
The project is only just beginning, Frazier said, with the first meeting planned for January, then another every two months thereafter.
"We're in the formative stages," Frazier said. "We're finding out what the cable operators' requirements are."
Frazier expects the group to reach a definition of the problem by July 2012. Once that's done, they'll get with vendors about details, which he hopes to have nailed down in the first half of 2013, and then on to finalization of a specification.
"The whole process usually takes about 3 years," Frazier said.
When built-to-spec products will appear is hard to guess. "There's just too many wild cards," said Whittlesey.
Of course, three years plus is a long time in tech terms, and the cable landscape can be expected to change in the meantime -- probably incrementally, but perhaps radically. The finished spec may also differ considerably from the original vision.
Still, the need for greater throughput is clear, and EPoC offers a way to fill it. This one bears watching.
Ron Hendrickson is BTR's managing editor. Reach him at ron@broadbandtechreport.com.