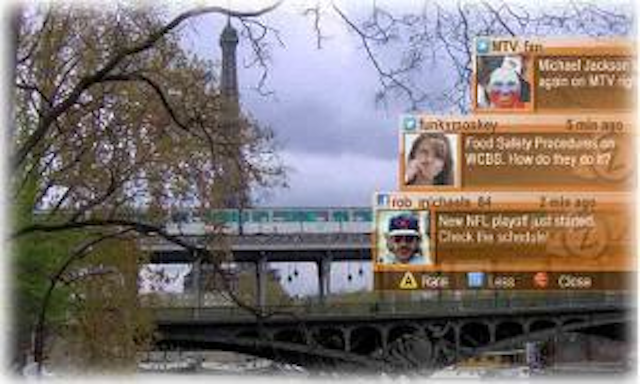 Zodiac Interactive
is showcasing the Social Media and Messaging Solution Suites of its PowerUp AMS Platform from The Cable Show CableNet Pavilion. Zodiac is also demonstrating HTML5 applications to be based on its PowerUp for HTML5 Platform, which is currently under development, as well as the PowerUp OpenGL module now available for the PowerUp for tru2way Platform.
PowerUp AMS is designed as a non-intrusive cloud-based software server infrastructure through which service providers can unify web, mobile and set-top box device technologies with enterprise and third-party services, as well as web-based applications. Standard, as well as customized AMS Solution Suites and Utility Modules, leverage core server functionality to deliver use-case specific capabilities. The AMS cloud-based server farm provides an extendable and re-usable back-end foundation capable of supporting numerous AMS Solution Suites and Utility Modules.
The PowerUp AMS Social Media Application combines television with social media. For example, a TV viewer who is watching a program will receive a prompt to let them know there is an opportunity to join Facebook or Twitter users watching the same program, or to interact by receiving and sending messages within the community at the touch of a button. AMS technology is designed to allow that program's affinity following to trade thoughts in messages across any device during the program.