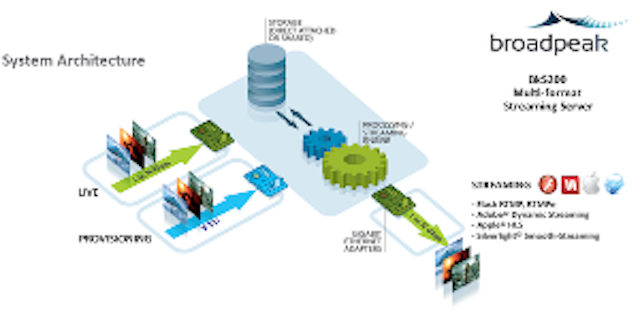 Broadpeak
announced its BkS200 family of live and on-demand servers, which is designed to deliver video via managed or open Internet networks to a variety of popular devices, such as Android mobile phones and tablets as well as the iPhone and iPad. The new products will be showcased at the 2011 IP&TV World Forum in London.
The new platform is designed for video streaming in
Microsoft
Silverlight Smooth Streaming, Adobe Flash and Apple HTTP live streaming for both live and on-demand applications. The software engine activates any supported format without having to switch equipment. The hardware platform, which is built with servers from
IBM
, delivers guaranteed capacities. The BkS200 also includes RAID technology for redundancy.
While collecting and redistributing streaming requests, the load-balancing and fail-over protection are managed by the Broadpeak BkM100 CDN Mediator. Both the streamers and the Mediator can be integrated with several commercial or home-grown service platforms.