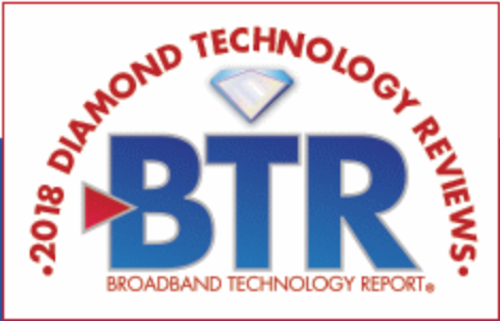 BTR's Diamond Technology Reviews, now in its 14th year, is a technology recognition program in which vendors serving the broadband cable industry are invited to submit information about products that have been released or upgraded since last year's SCTE Cable-Tec Expo (held in October 2017).
Each entry was assigned to at least three of our expert volunteer judges. To help ensure fairness, similar products from different vendors were reviewed by the same group of panelists. Judges based scores/comments on written material provided by vendors, as well as their own experience with or knowledge of the specific technologies. Review panelists were informed that scores/comments would remain anonymous.
Specifically, judges used the following scale to determine Diamond scores:
0-1: Not a useful product
1.5-2: Useful product, yet commodity
2.5-3.5: Solid product with viable attributes that set it apart
4: Excellent product with technical features and performance that provide clear and substantial benefits
5: Superb product that sets new standard for performance and provides groundbreaking and new technical milestones
Each entry's scores were averaged and rounded to the nearest full or half Diamond. Note that products are grouped by score (with the highest Diamonds ranking first), and then in alphabetical order.
Scores of 3.5 or above are considered superlative and reflect a very positive opinion from the panel. Only products receiving a 3.5 or above are included in this article.
"We tasked our judges to evaluate each entry based on its innovation and overall usefulness to cable operators," said Broadband Technology Report Editorial Director Stephen Hardy, who served as program director this year. "Our judges took these instructions very seriously this year. And while some entries fell short of this bar, several entries made excellent impressions."
Not surprisingly, several of the entries this year focused on fiber deep and Distributed Access Architecture (DAA). But we also saw advanced technology in the test and measurement arena, in video processing and customer premises equipment (CPE). Preparing cable operators for virtualization and software-defined networking/network functions virtualization (SDN/NFV) was a common theme.
"Broadband Technology Report thanks the judges for their hard work and diligence in evaluating so many entries. This year's Diamond Technology Reviews entries indicate that cable operators should find several good options to meet their needs as they continue to evolve their networks," Hardy said.
DTR HONOREES DESCRIPTIONS
Active Network Hardware
Alpha Technologies AlphaGateway SMG-HP
Ciena 6500 Reconfigurable Line System (RLS)
Back Office
Incognito Software Systems Digital Home Experience Solution
CCAP Systems
Cisco Systems Cloud Native Broadband Router
Customer Premises Equipment
Advantech FWA-1010VC Tabletop Network Appliance with Intel Atom Processor C2000 for universal vCPE and SD-WAN
Comcast Business Comcast Business Router (CBR)
Amphenol Broadband Solutions DOCSIS Passive Device
Evolution Digital eSTREAM 4K, powered by Android TV
Cabling and Accessories
Corning ALTOS Lite Cable with Binderless FastAccess Technology
Corning LCPE with splice capabilities (with WDM module)
Corning OptiTap Field-Installable Connector
Wirewerks NextSTEP Fiber Management System - FLEX Module
Corning RocketRibbon Extreme Density Ribbon Cable
Wirewerks NextSTEP Wall Mount Enclosure with Splice Tray Modules
Wirewerks NextSTEP Fiber Management System - MINUS1U Patch Panel
Wirewerks NextSTEP Fiber Management System - 1U Patch Panel
FTTH/Optical Access Platforms
ADTRAN SDX 6210-4 - Virtualized 10G Remote Optical Line Terminal (R-OLT)
Ciena 5170 Service Aggregation Switch
ATX GigaWave Digital DWDM Optical Gateway Platform
Greenlee Communications Micro OPM
Field Test Instruments
Anritsu Handheld Network Tester - MT1000A Network Master Pro
AFL FleXpress Fast OTDR Test Mode for FlexScan OTDRs
Challenger Cable DWDM Channelized Optical Power Meter
VIAVI Solutions Home Leakage Test Kit
EXFO ConnectorMax Multifiber Source
Challenger Optics MPO Multi-Fiber Test Set
Monitoring & Analysis
Vecima Networks Entra Remote PHY Monitor
Verimatrix Verspective Intelligence
VIAVI Solutions Fiber Monitoring OMNSi and SmartOTU with Optical Test Unit OTU-5000
VIAVI Solutions XPERTrak DAA Return Sweep
Alpha Technologies Spotlight360
Network Level Test Instruments
Steren Electronics HDMI Tester with HD LCD Display and Audio
Optical Transport/Carrier Ethernet
Ciena 8180 Coherent Networking Platform
SDN/NFV/CLOUD
Metaswitch Composable Network Protocols
Qwilt Open Edge Service Provider CDN
Video Processing Solutions
Harmonic UHD HDR Streaming for Live Sports Solution
WiFi Solutions