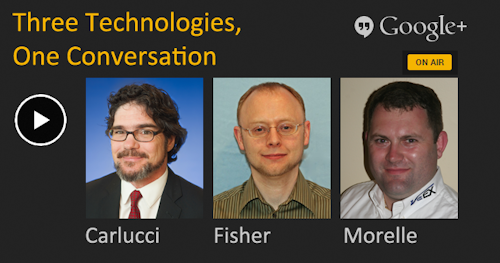 Join BTR in an exclusive Google Hangout for a wide-ranging 30-minute informal discussion of the latest in multiscreen video, home gateways, and testing/monitoring of DOCSIS 3.1 and fiber networks. We'll be joined by representatives from three leading technology companies - Alticast, Hitron Technologies and VeEX - all of which were high-scorers in BTR's 2014 Diamonds Technology Reviews. This Google Hangout will be moderated by BTR Founder and Publisher Tim Hermes.

Bookmark this page and be sure to return on October 28 at 3 PM Eastern to watch this informal and unscripted Google Hangout.
The video will be available immediately following the event on this page, and via Google+ and YouTube.
Click here to follow us on Google+.
Meet the Speakers:

John Carlucci - Chief Technology Officer, Alticast
John Carlucci is the Chief Technology Officer at Alticast where he leads product and technology development. John is a technology leader and entrepreneur focusing on digital media and communications including networking, digital multimedia, interactive television, content security, graphics, and grid computing. He contributed to the success of industry stalwarts such as Sony, DiviCom/Harmonic, BigBand Networks and Clearleap.

Greg Fisher - Chief Technology Officer, Hitron Technologies
Greg Fisher started Hitron's branded business in the Americas covering telecommunication providers from Canada/US down to Mexico, Brazil and Chile. As Chief Technology Officer he is focused on product strategy, technical innovation, and providing quality CPE solutions to service providers. Hardware design, software development, technical sales and support are all managed and completed by the Hitron teams.

Cyrille Morelle - CEO/President, VeEX Inc.
Cyrille co-founded VeEX Inc. and has served as VeEX Inc President and Chief Executive Officer since April 2006 and as a member of VeEX Inc board of directors since April 2006.
In his current role at VeEX, Cyrille and his team are responsible for the global operations of VeEX and bringing new innovative testing solutions to the market place. VeEX offers more than 40 products for Broadband, Metro Ethernet, Transport and CATV Service Providers.