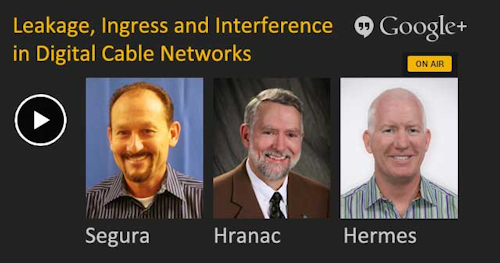 Join us for BTR's fourth Google Hangout – this time on UHF leakage and LTE interference – with Nick Segura (Charter) and Ron Hranac (Cisco). Nick and Ron will engage each other for 30 lively minutes discussing the challenges of dealing with signal leakage, direct pickup, and ingress at frequencies outside of the traditional VHF aeronautical band. The two will spend a good deal of time discussing the importance of being proactive about leakage-related interference to LTE service providers in the 698-806 MHz spectrum. The Hangout will be moderated by BTR Publisher Tim Hermes, and is a can't miss online event for operators who need to manage signal issues in the field.
Bookmark this page and be sure to return on March 13 at 4 p.m. Eastern to watch this informal and unscripted Google Hangout.
The video will be available immediately following the event on this page, and via Google+ and YouTube.