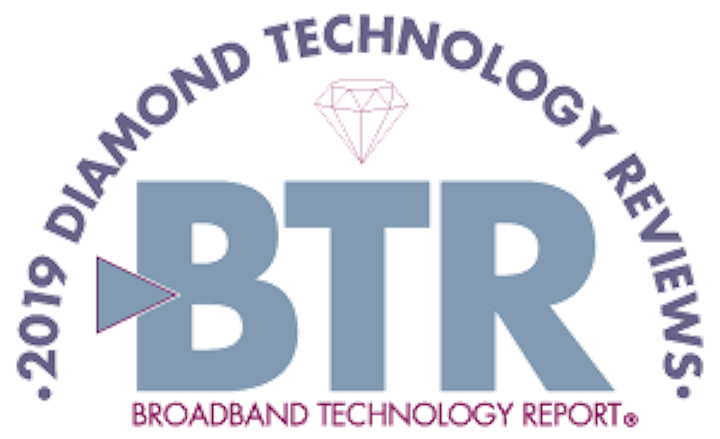 BTR's Diamond Technology Reviews, now in its 15th year, is a technology recognition program in which vendors serving the broadband cable industry are invited to submit information about products that have been released or upgraded since last year's SCTE Cable-Tec Expo (held in October 2018).
Each entry was assigned to at least three of our expert volunteer judges. To help ensure fairness, similar products from different vendors were reviewed by the same group of panelists. Judges based scores/comments on written material provided by vendors, as well as their own experience with or knowledge of the specific technologies. Review panelists were informed that scores/comments would remain anonymous.
Specifically, judges used the following scale to determine Diamond scores:
1-2: Not a useful product
3.0: Useful product, yet commodity
3.5: Solid product with viable attributes that set it apart
4.0-4.5: Excellent product with technical features and performance that provide clear and substantial benefits
5: Superb product that sets new standard for performance and/or breaks new ground
Each entry's scores were averaged and rounded to the nearest full or half Diamond. Note that products are grouped by score (with the highest Diamonds ranking first), and then in alphabetical order.
Scores of 3.5 or above are considered superlative and reflect a very positive opinion from the panel. Only products receiving a 3.5 or above are included in this article.
We continued to see several entries applicable to fiber deep and Distributed Access Architecture deployments. Advanced technology from within the test and measurement arena also had a strong showing. Preparing cable operators for virtualization and software-defined networking/network functions virtualization (SDN/NFV) was a common theme as well.
"This year saw in increase in entries based on software, most with an SDN or cloud influence," commented Broadband Technology Report Editorial Director Stephen Hardy, who again served as program director this year. "Our only two 5.0 Diamond recipients fell within this category, which demonstrates how cable operators are moving in this direction."
As always our Diamond Technology Review judging panel proved tough but fair. "Broadband Technology Report thanks the judges for their hard work and diligence in evaluating so many entries. This year's Diamond Technology Reviews entries indicate that cable operators continue to benefit from innovation across the network technology spectrum," Hardy concluded.
DTR HONOREES DESCRIPTIONS
ACTIVE NETWORK HARDWARE
Alpha Technologies AlphaGateway, 4.5 Diamonds 
Alpha Technologies XM3.1, 4.0 Diamonds 
Luster Teraband HomeTRAN 2.5, 4.0 Diamonds
Alpha Technologies XMBS with Auto Sync, 3.5 Diamonds 
BACK OFFICE
IQGeo IQ Network Revenue Optimizer, 4.5 Diamonds 
Ciena Blue Planet Inventory, 4.0 Diamonds 
CABLING AND ACCESSORIES
Wirewerks NextSTEP 3-Series Modules, 4.5 Diamonds 
Wirewerks LGXtra Patch Module, 4.0 Diamonds 
Wirewerks NextSTEP Distribution Frame, 4.0 Diamonds 
Wirewerks CableMate - Cable Attachment & Strain Relief Device, 3.5 Diamonds 
Wirewerks ZeroU Patch Panel, 3.5 Diamonds 
CCAP SYSTEMS
Vecima Networks Entra Video QAM Manager, 4.0 Diamonds 
CONTENT DISCOVERY
Evolution Digital eMERGE, 3.5 Diamonds 
FIELD TEST INSTRUMENTS
AFL FOCIS Lightning, 4.5 Diamonds 
AFL FlexScan FS300-325 Quad OTDR, 4.0 Diamonds 
Anritsu Network Master Pro MT1000A, 4.0 Diamonds 
EXFO Optical Xplorer, 4.0 Diamonds 
VIAVI Solutions DSP-TDR, 4.0 Diamonds 
VIAVI Solutions DWDM Optical Channel Checker module (OCC-4056C), 4.0 Diamonds 
VIAVI Solutions Network & Service Companion (NSC-100), 4.0 Diamonds 
VIAVI Solutions OneExpert CATV ONX 220, 4.0 Diamonds 
VIAVI Solutions Seeker X, 4.0 Diamonds 
FTTH/OPTICAL ACCESS PLATFORMS
Corning Optical Communications ClearTrack Fiber Pathways, 4.5 Diamonds 
IQGeo myWorld Capture, 4.5 Diamonds 
Ciena 5171 Service Aggregation Switch and Service Aggregation Platform, 4.0 Diamonds 
Corning Optical Communications Local Convergence Point Enclosure, LCPE, 288, 3.5 Diamonds 
Electroline Reverse Node (ERN), 3.5 Diamonds 
MONITORING & ANALYSIS
Qligent Vision Analytics, 4.5 Diamonds 
VIAVI Solutions XPERTrak 3.0, 4.5 Diamonds 
NETWORK-LEVEL TEST INSTRUMENTS
EFFIGIS IRXD Ingress Detection Receiver in DAA/RPHY architecture, 4.0 Diamonds 
OPTICAL TRANSPORT/CARRIER ETHERNET
Ciena WaveLogic 5 Nano, 4.0 Diamonds 
VIAVI Solutions MAP-2100, 4.0 Diamonds 
SDN/NFV/CLOUD
Metaswitch Networks Fusion Core, 5.0 Diamonds 
Qwilt Content Delivery Sharing, 4.0 Diamonds 
VIAVI Solutions vNet Fusion, 4.0 Diamonds 
DriveNets Network Cloud, 3.5 Diamonds 
VIDEO DISTRIBUTION SOLUTIONS
Verimatrix nTitleMe, 5.0 Diamonds 
ATX Networks GigaPass, 4.0 Diamonds 
Vecima Networks MediaScaleX//Video Optimized Storage, 4.0 Diamonds 
VIDEO PROCESSING SOLUTIONS
Synamedia Virtual Digital Content Manager (vDCM), 4.0 Diamonds