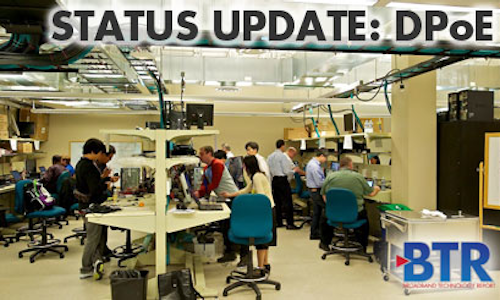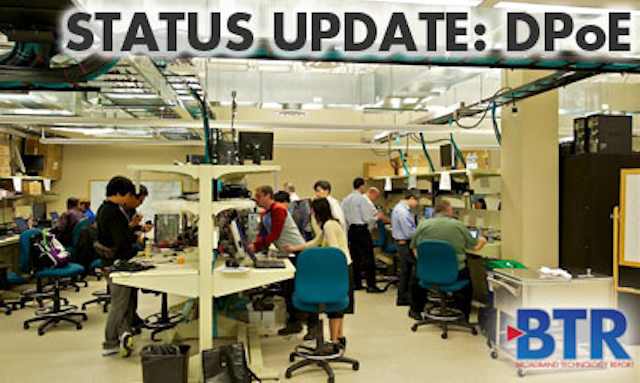 CableLabs
' DOCSIS Provisioning of EPON (DPoE) specification has come a long way in a little over a year. Here's an update on one of the consortium's bigger projects.
DPoE, led by
Bright House Networks
,
Comcast
and
Time Warner Cable
, is a subset of CableLabs' larger business Ethernet projects, intended to help cable operators provide
Metro Ethernet Forum
-compliant services. DPoE specifically is intended to create an architecture to enable Ethernet passive optical network (EPON) equipment to be provisioned using existing DOCSIS-based provisioning, and to provide services over EPON to business customers. It includes requirements and functionality to support Metro Ethernet services such as Ethernet Private Line (EPL). The spec itself is available at
http://www.cablelabs.com/dpoe/specifications/specifications10.html
.
Version 1.0 of the spec, first announced in October 2010 and publicly released in March 2011, has so far been the subject of four interops, the most recent being completed in mid-December 2011. Five more interops are scheduled for the first half of this year:



Feb. 27 to March 3



March 26 to March 30



April 16 to April 20



May 21 to May 25



June 18 to June 22



In late January, CableLabs also announced an equipment qualification program for DPoE, intended to allow equipment makers to certify that their technology and devices are compliant with DPoE version 1.0 specifications. The consortium hasn't officially announced when the first qual wave will be, but presumably it can be expected after all the scheduled interops are complete, which would make it this summer.
Thus far, 22 vendors have taken part in at least one DPoE interop:
Adva
,
Alcatel-Lucent
,
ARRIS
,
Aurora Networks
,
Broadcom
,
Ciena
,
Cisco
,
CommScope
,
CTDI
,
Finisar
,
Hitachi
,
Huawei
,
Ixia
,
MRV
,
Oliver-Solutions
,
NTT
,
PMC-Sierra
,
Qualcomm Atheros
,
Shenzhen Gongjin Electronics
,
Sumitomo
,
Telco Systems
and
ZTE
.
Ron Hendrickson is BTR's managing editor. Reach him at ron@broadbandtechreport.com.