5 Years of Google Fiber: A Higher Bar for Everyone
By Monta Monaco Hernon - This May marked the fifth anniversary of Google Fiber's (NASDAQ:GOOG) launch in Kansas City. To date, the ...
Jul 19th, 2016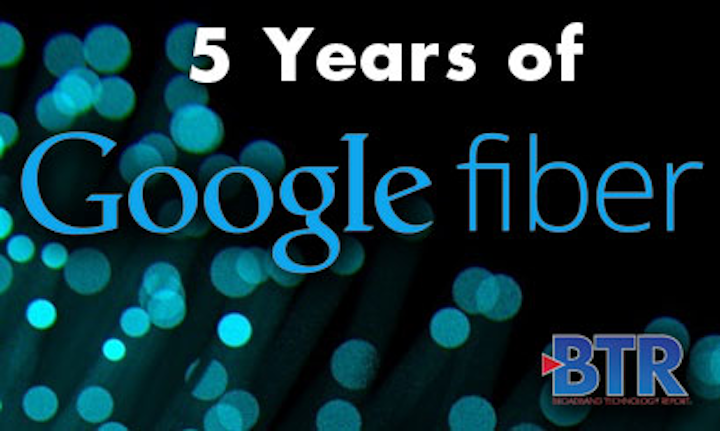 This May marked the fifth anniversary of Google Fiber's (NASDAQ:GOOG) launch in Kansas City. To date, the service is up and running in five markets, with another six planned, and 12 more cities announced as candidates. The company seems to have an impact wherever it goes with competitors' reducing prices and/or building faster services.
"Google is driving the competition to innovate. The idea of growth in broadband data rate is something we have seen spurred on by what Google has taught with gigabit access," said Loudon Blair, corporate strategy officer at Ciena (NYSE:CIEN).
Google perhaps has sparked this drive more so than a telco/cable operator face-off could. For one, an Internet-based company like Google is more nimble without the legacy infrastructure baggage of a telco or cable operator. Also, once companies get to a somewhat steady state of competition in a market, it sometimes takes a newcomer to raise the bar.
"They've got to stay in the game and compete. Google stepping in and making gigabit (a reality) five years ago was a big change. We are seeing others catch up," Blair said. "Sure, we would get there if they hadn't done this, but maybe the timing would be different."
The competitive advantage and nimbleness a company like Google has - due to its focus on content and not infrastructure - will likely erode as its footprint grows.
"They will start to recognize similar operational challenges," Blair said. "(For example,) just being able to upgrade everything in a large population when you are a traditional ISP takes longer."
While Google is driving competition, the arena may settle down into a complementary ecosystem. Ultimately Google and other service providers will continue to focus on network connectivity.
"If they can make this better, then users of content will be happy and want more content and vice versa. I do not think it is one vs. the other. There is a balance taking place," Blair said.
There is an opportunity for bundling. For example, content discounts could be offered with a connectivity purchase, or if someone subscribed to content, they could be offered discounts on connectivity. (Editor's note: Google already offers bundles with TV and phone services in Google Fiber markets.)
"Relationships can form in terms of providing a fundamentally better service solution for you and me," Blair said.
Google Fiber also recently announced its intention to acquire Webpass, an ISP that offers connections via point-to-point wireless.
"This could potentially accelerate (Google's) business if they don't have to go into the trenches. It is an interesting perspective to gigabit access," Blair said.