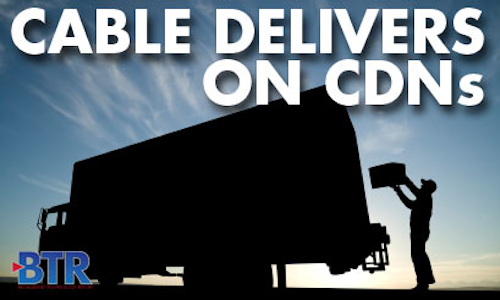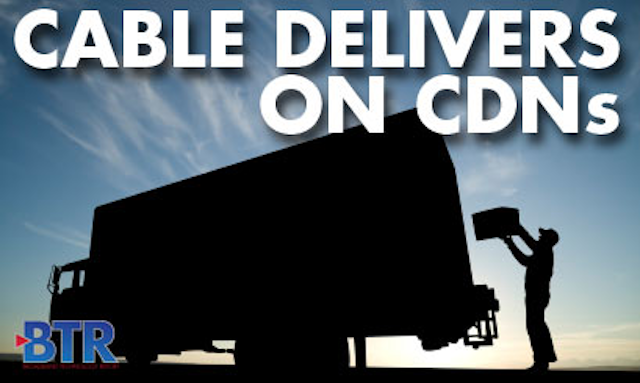 The cable industry is looking to build upon its traditional advantage -- the last mile pipe into subscribers' homes -- by making the content delivery networks (CDNs) they are building far more than passive deliverers of bits and bytes.
While the core technology of CDNs is well understood, other important elements of their use in cable networks -- how many tiers to create, precisely where to put the caches and whether (and, if so, how) MSOs will partner to drive efficiencies even further -- still are up in the air.
"There certainly seems to be a movement for MSOs to establish their own CDNs," said Alex Dobrushin, the chief marketing officer for
Wowza Media Systems
. "It certainly makes sense based on the infrastructure that they already have."
It's not surprising that the big operators tend to do the heavy lifting. CDNs go hand-in-hand with multiscreen offerings and the adaptive bitrate streaming technology on which it is based. Adaptive bitrate streaming, said Marty Roberts, the vice president of sales and marketing for
thePlatform
, generally is considered a feature offered as part of a CDN package.
The CDN sector is undergoing a transition driven by the vast increase in demand for content. To this point, CDNs have been pure delivery platforms outsourced to service providers such as
Akamai
and
Limelight Networks
. Now, however, operators are awakening to fact that the CDNs offer tremendous opportunities to streamline their current business and to form the underlying network for value-added services.
Dan Rayburn, the executive vice president of
Streaming Media
, said
Comcast
's CDN initiative is well established, while
Time Warner Cable
remains a bit of a question mark. In general, the sense is that the pure logic of an in-house CDN model is driving fast adoption among bigger MSOs. Tier 2 and 3 operators are showing a lot interest as well.
Roberts said smaller operators generally use edge caching gear from Akamai. They tend to stay with that vendor for their nascent CDN projects to avoid the pain of switching. "They kind of
are
the company in that sector," he said.
On Net, Off Net


Right now, the focus is on bringing "on-net" CDNs -- those that provide content to subscribers who are at home or traveling within the MSO's footprint -- in house. The current crop of vendors -- which includes
EdgeCast Networks
,
Alcatel-Lucent
,
Cisco
,
Level 3
,
Velocix
and others in addition to Limelight and Akamai -- will continue to providing both off-network infrastructure to satisfy "off-network" CDN services to subscribers who are traveling beyond their operator's footprint.
Building in-house CDNs is a big step that only will be undertaken if substantial drivers are clear. These drivers are there:



The overall traffic operators are carrying is proliferating, and this makes efficient use of bandwidth vital. Operators have both their own libraries and over-the-top (OTT) offerings from Netflix and others to support. This makes the efficiencies and control offered by an in-house, on-net CDN an obvious advantage.



Operators want control. The algorithms that determine where content is stored are simple when the extremes -- top 10 hits and obscure library titles -- are considered: Top 10 titles are best stored near subscribers, and those that will be requested only by film students in a central repository that can be far away from the subscriber. But the shades of gray are far more complex. And, of course, the precise requirements change on a fluid basis. Thus, the ability to tightly control thousands of titles is very attractive to operators.



In the longer term, ownership of CDNs will enable ancillary businesses that lie beyond simple delivery of video. Cable operators, for instance, can use CDNs as the platform for social networking, application marketplaces and other revenue-generating initiatives. In general, CDNs are an enabler of a number of potentially lucrative businesses, up to and including commercial services.



There are lot of issues to sort through, of course. David Helfrick, the principal consultant at the
Interactive Broadband Consulting Group
, said operators need to carefully determine their architecture. The key questions focus on existing network topology, the nature of the areas served, the number of tiers that will be run and precisely what level of caching will be done at each.
It is the dawn of a new age. In addition to supporting as-yet undetermined business ventures, operators may band together to drive efficiencies even deeper. For instance, subscribers of an MSO who order a movie while vacationing in the footprint of another could be accommodated without relying on companies from outside the industry. It is possible that the tier 2 and 3 players will eventually become clients of their larger compatriots, Helfrick said.
Likewise, more efficient ways of organizing tiers can be established if an MSO builds relationships. These would essentially look like Internet peering, Helfrick said. For instance, marginal movies that are low in demand but not low enough to drop can be stored by one operator and sent out, as needed, to others.
The cable industry has a long way to go in the CDN business. The first level, it seems, will be creating efficiencies for today's services. Then, in the future, operators may use it as a springboard to new businesses. "Now it [solves] a bandwidth problem," Rayburn said. "Once they do that and build a platform, they can say, 'Now we can monetize it.'"
Carl Weinschenk is the Senior Editor for Broadband Technology Report. Contact him at
carl@broadbandtechreport.com
.