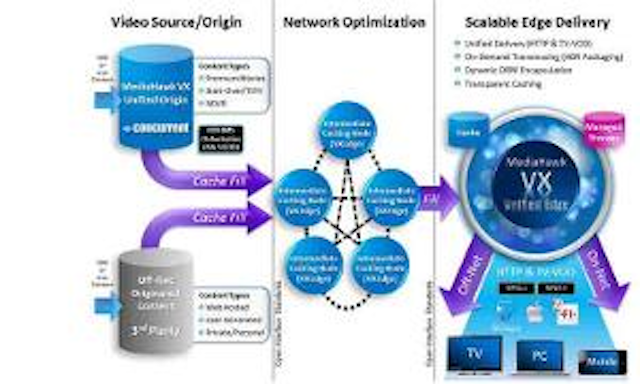 Concurrent
is announcing new software solutions for service providers intending to build their own content delivery networks (CDNs). Concurrent's CDN product suite includes a unified origin server and unified edge server designed to support traditional TV-VOD and HTTP delivery simultaneously using the same server hardware. Converging features from Concurrent's flagship VOD product, MediaHawk VX, with its newly announced eFactor product suite for HTTP delivery, the new software is designed to simplify the migration of services from traditional RF frameworks toward a pure IP model.
Concurrent's software can be configured to support pure TV-VOD, pure HTTP, or a mixture of protocols from the same server, enabling traditional services to be migrated to new devices without the need to introduce new hardware into the network. Concurrent's CDN solutions also include eFactor's transmuxing capabilities.
Concurrent's CDN products include the MediaHawk VX Unified Origin Server, MediaHawk VX Unified Edge Server, eFactor HTTP Edge, and CDN Ingest Manager. The entire CDN suite will be demonstrated at Cable-Tec Expo.