As residential and enterprise subscribers increasingly demand high-bandwidth applications, multiple system operators (MSOs) are optimizing their existing cable plant while simultaneously creating opportunities for scalable upgrades in the future. While there remains uncertainty about how exactly trends and industries such as smart cities, healthcare, and gaming will continue to evolve – as recently highlighted in CableLabs' 10G initiative – operators are preparing today by driving fiber farther into their networks, either with fiber deep architectures for brownfield applications or by leveraging fiber-to-the-home designs in greenfield applications.
This strategy explains why we've witnessed the migration of MSOs toward node+0 and FTTH architectures, in which the goal is to push fiber much closer to their subscribers, thereby eliminating the use of preceding amplifiers. However, this opportunity is currently hindered by legacy coaxial cables that have created congested distribution ducts. Smaller fiber-optic cable, known as micro cable, is one way of tackling this challenge, and it can be deployed in three different environments.
Brownfield Scenario: Microduct Override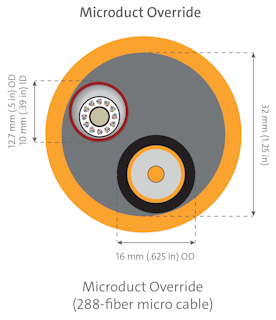 Figure 1. In a space smaller than a coaxial cable, MSOs can deploy a 288-fiber micro cableIn existing duct infrastructure, known as a brownfield scenario, micro cable can be installed alongside an operator's coaxial cable via a setup known as a microduct override. Some of the most common coaxial cable sizes we see today are 0.500, 0.625 and 0.750 inches, while a common conduit inner diameter is 1.25 inches, which leaves room for an additional microduct, as shown in Figure 1.
One of the most popular microduct sizes in North America is 12.7/10 mm (outer diameter of 12.7 mm/0.5 inch, inner diameter of 10 mm/0.39 inch). This microduct size accommodates micro cable designs with 144, 216 or even 288 fibers. As a result, in a space smaller than a coaxial cable, a network operator has an opportunity to deploy as many as 288 fibers where previously it would have only been possible to install a 96-fiber traditional loose-tube cable.
Through overprovisioning, MSOs equip themselves to handle the current landscape, in which they find themselves increasingly competing against carrier providers to serve enterprise customers. Furthermore, cable operators ensure that they have laid the foundation for a 10G Ethernet passive optical network and more: building an optical distribution network that can handle the converged demands of enterprise and residential applications, all while maximizing the use of their current duct infrastructure.
Brownfield Scenario: Empty Legacy Duct
A second environment in which micro cable proves indispensable is when ducting has been placed, but not populated. As mentioned previously, a frequently used duct inner diameter is 1.25 inches. If a network operator has the luxury to encounter empty duct space, a wise use of the space is to subdivide the capacity into sections using microducts, rather than filling it with a traditional loose-tube cable. A side benefit is that microducts can come equipped with toning wires, which saves network operators from purchasing and installing armored cabling.

Figure 2. Overprovisioning with micro cable could deliver dig-free future capacity.An empty 1.25-inch duct can accommodate three 12.7/10-mm or five 10/8-mm microducts. As discussed above, the 10-mm inner microduct diameter will support a 288-fiber cable, while the 8-mm inner diameter can be used with a 144-fiber cable. This use of micro cable can deliver 864 fibers in the first scenario or 720 fibers in the second scenario, as shown in Figure 2. These fiber counts are especially pertinent in feeder ducts, where the number of strands generally ranges between 144 and 864 and will only continue to rise. MSOs may only initially need one of the three or five microduct scenarios described above, but overprovisioning would provide the gift of dig-free scalable capacity in the future.
Greenfield Scenario: New Build FTTH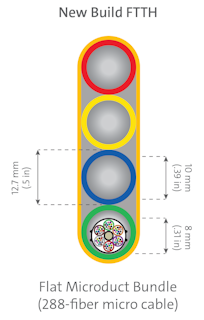 Figure 3. Bundling microducts can deliver significantly higher capacity and streamlined future upgrades.A greenfield build presents an excellent opportunity to address today's bandwidth challenges by driving fiber to the home. This scenario can play out either if existing ducts are too congested (even for micro cable) and brand-new ducts are required or if construction is beginning in an area that didn't previously have ducts. When choosing which duct to lay, bundling seven 12.7/10-mm microducts provides a multipath opportunity in approximately the same space as a single-pathway 1.25-inch traditional duct. Both of these ducts would have similar deployment costs on day one, but the microduct approach provides six additional cable pathways for far greater total fiber capacity and swift, cost-effective upgrades in the future.
Micro cable also complements a couple of innovative installation techniques: microtrenching and jetting. Microtrenching is a significantly less-disruptive alternative to traditional open trenching, wherein a vertical microduct bundle (shown in Figure 3) fits into a narrow slot cut into the earth or asphalt. This method is up to 80% faster than traditional deployment methods and can save up to 50% of the cost.
Micro cable is also designed for an air-assisted installation, in which a jetting machine uses air to propel the cable through the microduct. This technique is capable of installation distances greater than 6,500 feet at speeds up to 490 feet per minute. These installation tactics that are inherent to micro cables offer ways to reduce labor and civil works costs while adding capacity to address today's bandwidth challenges.
As MSOs continue strategically upgrading their networks to stay ahead of demand for high-bandwidth services and applications, they are encountering critical deployment challenges. Congested ducts are among these challenges. Whether in a brownfield or a greenfield scenario, micro cable can deliver the necessary bandwidth while leaving pathways available for whatever the future might hold.
Jay Joshi is a product line manager for Corning Optical Communications.