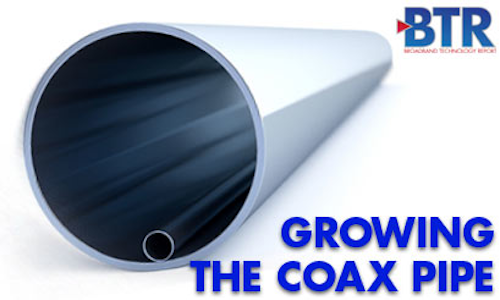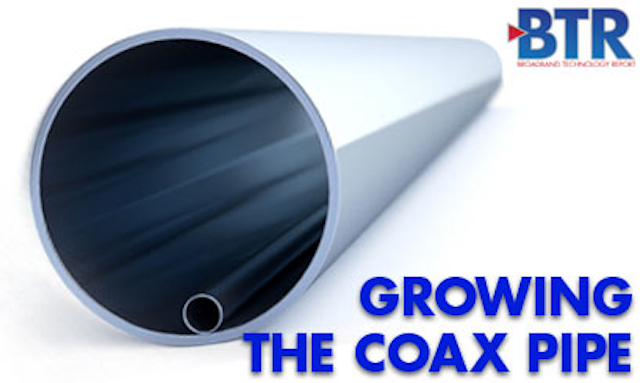 Cisco
(NASDAQ:
CSCO
),
Motorola
(NYSE:
MMI
),
ARRIS
(NASDAQ:
ARRS
) and
Intel
(NASDAQ:
INTC
) have been collaborating on technical recommendations for turning
DOCSIS
into a Gigabit class technology. The goal is a 1 to 2 Gigabit upstream and a 5 to 10 Gigabit downstream, said John Chapman, chief technical officer of Cisco's cable access business unit.
"Coax and fiber really can take the same position in the market when it comes to data capacity as we move into the next generation of DOCSIS technology," Chapman said.
At the heart of the plan is a change in physical layer (PHY) technology, specifically a move to orthogonal frequency division multiplexing (OFDM). While today a single carrier
QAM
channel 6.4 MHz wide is used, OFDM might utilize 1,000 carriers that are 64 kHz wide, for example. "There would be lots and lots of small carriers instead of one large carrier," Chapman said.
Each subcarrier can be turned on and off individually to work around noise. The modulation of each can be changed so that individual frequencies can be fine-tuned to accommodate for variances in the noise floor. And the amplitude of each subcarrier can be adjusted to help equalize the channels, Chapman said.
Second, load density parity check (LDPC), essentially a stronger method of forward error correction (FEC), will allow operation at a higher modulation order for a given carrier-to-noise ratio (CNR). "For example, if (an operator is) running at 64-QAM, we believe they could run at 256-QAM .... We think that by moving to LDPC, you can gain the equivalent of 5 to 6 dB ... in channel improvement, which translates to two orders of modulation," Chapman said.
This next generation of DOCSIS technology could be used to squeeze more capacity on the current plant, where the upstream utilizes the 5-42 MHz band. However, the recommendation is migration to a mid-split configuration (5-85 MHz) and eventually to a high-split where the outer edge of the upstream is at about 200 MHz. For the downstream, the idea is to pursue a move to above 1 GHz, perhaps to 1.7 GHz, which would further the evolution to 5 to 10 Gbps, Chapman said.
"All of this can be done over time as required by the market," Chapman said. "This is an incremental investment." Cable operators have the ability to begin moving to 85 MHz in the upstream as that technology is available today. High-split technology is at least three years out.
If the vendors' next-gen DOCSIS recommendations, including OFDM and LDPC, are officially adopted, they would take three to five years to implement. This includes spec work, silicon and product work, and plant changes, Chapman said. "It would kick off in leading markets, but the upgrades will probably be spread over a 10-year timeframe as the market demands."
Chapman will discuss these and other issues during a Cable Show Session, "The Gigabit Network: New Possibilities in HFC."
Monta Monaco Hernon is a free-lance writer. She can be reached at mcmhern@yahoo.com.