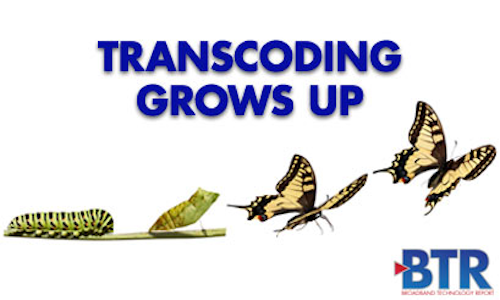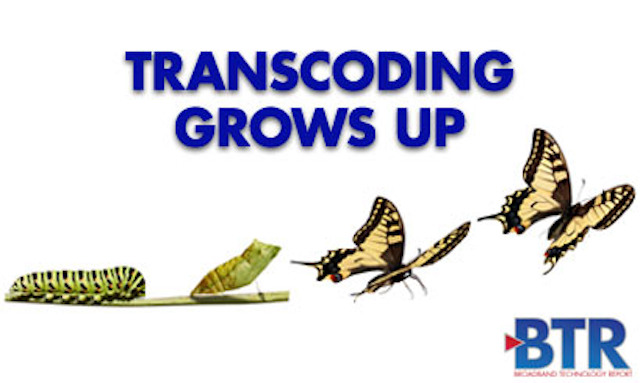 There has been news from three companies --
Digital Rapids, Harmonic
(NASDAQ:HLIT)
and
Telestream
-- on the transcoding front. That's important: Transcoding is the heart and soul of cable operators'
multiscreen
activities.
Transcoding is nothing new. Indeed, it long has been a staple of the cable industry. In multiscreen scenarios, the concept has been expanded. MSOs receive programming in a particular format from content providers. That content must be changed -- or transcoded -- into streams using formats that can be displayed by end user devices. This was relatively easy in a world where a set-top box received all the signals and sent them to a TV set. It's a bit more of a challenge in a world in which subscribers use a variety of devices based on Android, iOS and other operating systems.
There are three main formats in use:
Apple's
HTTP Live Streaming (HLS),
Microsoft's
Smooth Streaming and
Adobe's
HTTP Dynamic Streaming for Flash (HDS). A fourth format --
MPEG-Dynamic Adaptive Streaming over HTTP (MPEG-DASH)
-- is an attempt to create a standardized approach to adaptive bitrate streaming. Until it is generally adopted, however, and the others recede, MPEG-DASH will operationally be additive. Instead of replacing the others, it will be another standard with which operators must deal.
The industry has been confronting the challenge, according to Tom Lattie, the vice president of product management for Harmonic. "During the last 18 months in particular, the cable MSOs have really aggressively been taking transcoding to the next level, to multiscreen services," he said. "It's been predominantly in on-demand scenarios for things like Xfinity.com and other [operators'] properties. It isn't just getting to MPEG-2. Now you have get to multiscreen, to tablets and [other] handhelds and PCs."
Operators have no transcoding responsibilities for over-the-top (OTT) initiatives from non-aligned organizations such as
Hulu
and
YouTube
. Those companies are tenants and are on their own in terms of transcoding. Operators' only concern is processing streams for their own or partner services. Fortunately for them, they are not starting from zero: MSOs generally have legacy transcoding infrastructure that supports older but still very much utilized
video-on-demand (VOD)
services.
The idea, then, is to manage the migration of legacy transcoding into a platform used for multiscreen. There are two ways in which transcoding is used for the new initiatives. The more common approach is filed-based transcoding, in which an existing piece of content -- a movie or a show, for instance -- is transcoded for delivery to end user equipment supported by that operator. The other variation, which is not as advanced, is transcoding for live events. While the core technical challenges are similar, real-time transcoding is a higher hurdle due to a variety of content rights issues and the demands of doing things on the fly.
The goal, as with any core technique that is done repeatedly by the operator, is to operate in as efficient a manner as possible. Limiting human involvement and integrating as much functionality as possible into a single unit are both vital. The good news is that tight integration is within reach. Experts say the "wrappers" -- the way in which the content is packaged in each of the adaptive bitrate streaming formats -- are different. The actual payloads -- what's under the hood, so to speak -- are similar between the approaches. In other words, gaining transcoding efficiency is a function of methodically driving integration, not searching for techniques yet to be invented.
At the
National Association of Broadcasters
convention in Las Vegas earlier this month, Digital Rapids expanded the transcoder functions of its Kayak platform. Mike Nann, Digital Rapids' director of marketing, said Kayak is a video processing platform that provides several functions, including transcoding.
Nann said that the new addition,
Transcode Manager 2.0
, provides quality control at several points in the workflow, which are the different stages that the streams go through as they travel from their delivery to the operator to delivery to the end users' devices. Nann added that Transcode Manager 2.0 enables new adaptive bitrate streaming systems -- for instance, adding Android support to the lineup -- easily.
Harmonic announced that its ProStream 1000, which to date provides transcoding for traditional VOD services, will be able to perform transcoding for multiscreen devices via a firmware upgrade. The ACE upgrade, Lattie said, currently is in MSO labs and will be available by the end of the month.
Telestream also made an announcement. Jim Duval, the director of new products and technologies, said the company's Vantage 4.0 accelerates video processing, scaling -- such as dynamic changes to image resolution -- and other upgrades.
All three announcements speak to the idea that the future of multiscreen initiatives rests, at least to some degree, on creating a transcoding infrastructure that is highly automated and as streamlined as possible. The challenge going forward, Nann said, "is supporting all different flavors of adaptive streaming out there and being able to adapt to others as they come along -- and doing it efficiently."
Carl Weinschenk is the Senior Editor of Broadband Technology Report. Reach him at carl@broadbandtechreport.com.