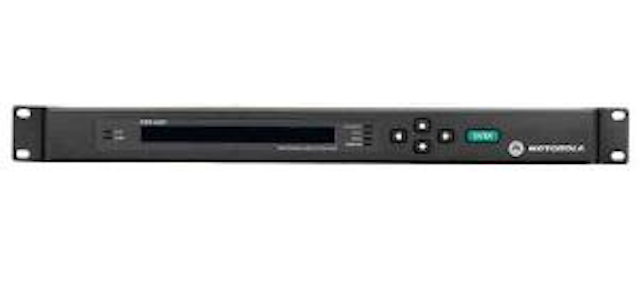 Motorola Mobility
is introducing the DSR-6400 family of integrated satellite receiver transcoders.
Designed to support single, dual, three- and four-channel configurations, the DSR-6400 family is an integrated design combining traditional IRD functions and transcoding functions in a single 1-RU unit. Each channel of the DSR-6400 series can independently transcode the input MPEG-4 HD video service into simultaneous MPEG-2 SD and HD video outputs. It's intended to support legacy MPEG-2 video services simultaneously with MPEG-4, as well as a closed-loop statmux capability.
With setup via the front panel, web browser, or from a satellite uplink control from the programmer, the DSR-6404 can be provisioned for CBR and VBR video bitrate encoding, allowing for video statmux in groups with up to four HD channels within a 256-QAM multiplex bitrate of 38.8 Mbps. It also utilizes AFD to translate input HD services to an appropriate SD service with proper aspect ratio and resolution.
Interfaces include RF, GigE and ASI input and output formats for connections to existing headend equipment. An additional Ethernet port also allows for web browser monitoring and control.