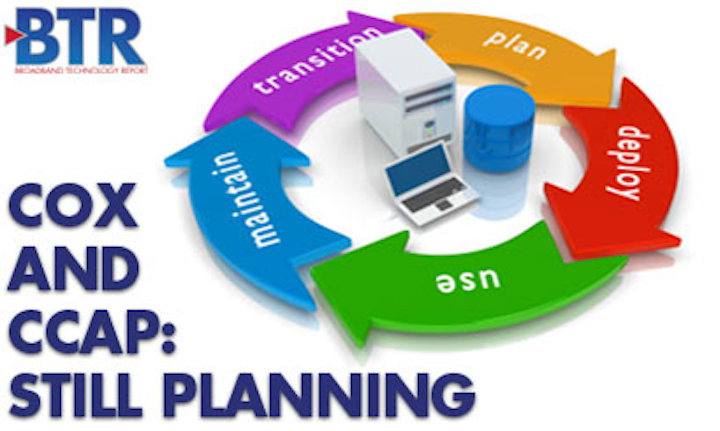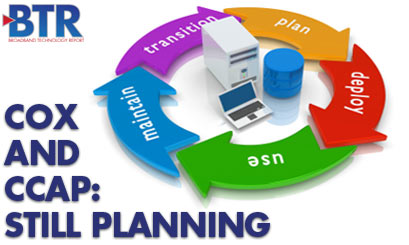 Wrapping up a month-long series on
CCAP
,
Cox Communications
' Jeff Finkelstein, senior director of network architecture, told
BTR
his company plans to do lab testing in 2013 with field trials beginning in the first or second quarter of 2014, "or possibly sooner in select scenarios." CCAP deployment would begin in the latter part of 2014, with a complete transition to CCAP into 2015.
"We would target 20% to 30% of the most heavily used service groups for the initial CCAP deployments," Finkelstein said. "That gives us the biggest bang for the buck - for the amount of capacity we would add and the amount of space (and) power we gain back in the headends."
In accordance, Cox likely will do a request for information (RFI) during the next two quarters and a request for proposal (RFP) in 2013. "I don't see us choosing a vendor for another year," Finkelstein said.
CCAP, of course, involves a box with functionality that can do both
video
and
data
, but there are vendors in this space with backgrounds in one or the other. As MSOs choose equipment, they have to weigh where they expect to see the greatest growth in demand over the next several years - data or video - and where they need the most relief.
For example, an MSO might be able to serve its video needs with existing technology in the near term, but with data, as they ramp toward IP video, they might need more density and space in the headend than is available today, Finkelstein explained.
"MSOs or vendors may choose to go down one path or another earlier (than the other)," Finkelstein said. "We have to say based on projections, product sets and experience ... what is the more appropriate path for us to take in this timeframe. That will weigh into the partners we choose to partner with on CCAP .... It will be dependent on where each individual MSO is. In our case, we are still trying to figure that out."
Noting something similar to what
Comcast
(NASDAQ:
CMCSA
) told
BTR
earlier this month, Finkelstein said one of the biggest challenges for operators will be at the operation systems support (OSS) interface level. On the data side, devices generally are managed with command line interface, but on the video side of things they are managed via a web-based interface, for example. Resolving discrepancies like this, as well as marrying two teams together, "generates a lot of discussion," Finkelstein said.
"There is a lot of focus on (this)," Finkelstein said. "(It) is going to be what really will slow down adoption. The human aspects - we have to make sure we get those pieces tied together."
Monta Monaco Hernon is a free-lance writer. She can be reached at mcmhern@yahoo.com.