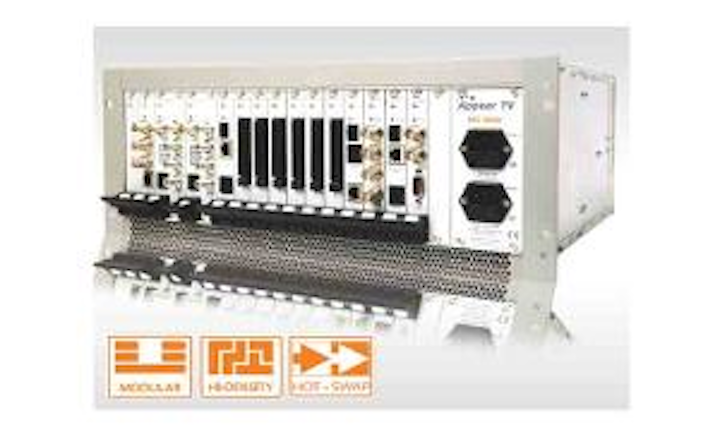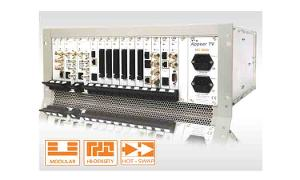 At Expo,
Appear TV
showcased several modules for its headend systems, including encoding/transcoding/multiscreen, content acquisition, decoding, descrambling, video processing, multiplexing with IP streaming and modulation capabilities. All the modules are designed to fit the same chassis for flexibility and ease of updates.
Appear TV's encoding/transcoding modules are designed to provide an encoding and transcoding headend platform for real-time broadcast operations. The encoder section is designed to handle up to 32 HD or 64 SD channels per headend chassis, offering HD-SDI/SDI, composite inputs with MPEG-2/MPEG-4 AVC encoding, HD and SD. Audio encoding includes MPEG-1 Layer 2 Stereo, LC-AAC Stereo, HE-AAC v1/2 Stereo and Dolby Digital pass-through for surround applications.
The transcoder matches the 32 HD-/64 SD-channel capability of the encoder, offering decode, re-encode, HD-to-SD and SD-to-HD conversion, including up or down scaling. Audio transcoding includes HE-AAC v1/2 and LC-AAC v1/2 to MPEG-1 Layer 2 and MPEG-1 Layer 2 to LC-AAC translation. Statmux capabilities are supported by both encoder and transcoder operations, offering up to four statmux groups and 32 statmux services per chassis.