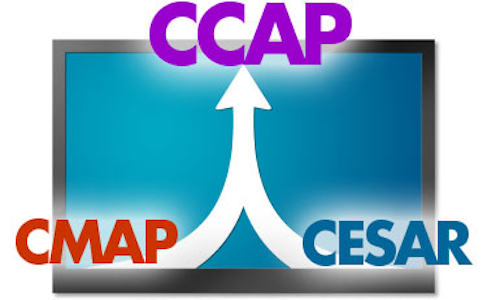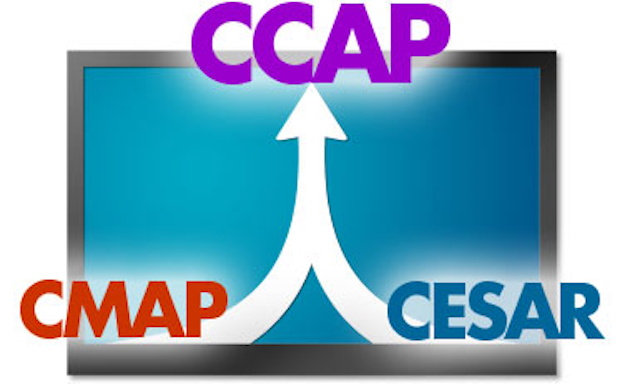 With the release of an updated technical report Tuesday, CableLabs put an end to the next gen acronym wars by dubbing the new and future architecture the Converged Cable Access Platform (CCAP).
CCAP blends key requirements from the Converged Multiservice Access Platform (CMAP) and the Converged Edge Services Access Router (CESAR) camps. While not diametrically opposed, the two had slightly differing takes on points such as service group size and whether encryption should be integrated or stand alone.
Both, however, did have the same end goal in mind-combining edge QAM and cable modem termination system functionality to save on power and space in the headend while increasing density and reducing per port costs. The CCAP will pick up the gauntlet with the idea of enabling MSOs to continue the migration to IP video delivery. Along the way, it seeks to make all fronts happy by allowing varying service group size, accommodating multiple interfaces, and supporting both a modular and integrated approach.
MSO bigwigs
Comcast
and
Cox
, which both backed CMAP, and Time Warner Cable, a CESAR proponent, immediately expressed support for the consensus-based CCAP, predicting that coming together will help them gain economies of scale and drive down prices.
"With one spec there isn't confusion with the vendors at large," Comcast CTO Tony Werner said during a Cable Show panel entitled
Space Craft: Transforming the Headend with CMAP
.
Indeed, vendors are please everything is now under one umbrella. "[But] the objective of both initiatives (CMAP/CESAR) was the same...Creating a platform for converged applications, saving power and space and simplifying operation was the main and most important (point). The acronym doesn't change the overall idea of the platform easing operations, saving power (and) space and leveraging the latest routing and QAM technologies," said
BigBand's
Ilan Kaftan, VP, QAM product line management.
To Go Modular or Not....
The CMAP concept of a modular approach centered around the idea of separating the access and packet shelves. Speculation swirled over which vendors would jump into the game and produce these separate components. One concern was the market size for this type of a platform.
Both Kaftan and Clayton Wagar, leader, MSO solutions,
Alcatel-Lucent
, said there has been interest expressed in a modular architecture, particularly from operators in Europe, Middle East and Africa (EMEA), but also from MSOs in the United States.
Moving forward, however, the modular scenario might look slightly different than originally envisioned, Kaftan said. He sees BigBand's products working with an "educated" router that does not implement DOCSIS, but is based on a lighter protocol with some of the functionality as defined in CCAP.
"We don't necessarily need a packet shelf...I think vendors prefer to keep a router as a router. We are driving a new approach. They are looking to find a way to get modularity without implementing DOCSIS in the router." BigBand is also looking into an architecture that doesn't need any changes within the router.
Cox's Jeff Finkelstein, senior director of network architecture, agreed that the original design of the modular CMAP might not make as much sense as it once did due to the rapid growth of silicon technology. "The marriage of the modular components was to bring everything together, but in some ways it confused things," he told BTR. A Layer 2 device that leaves the routing to the equipment that does routing best could be an option.
Reduce Forklifts
Finkelstein has been vocal about the need MSOs have for additional QAMs while they are waiting for CCAP to come into play. On Tuesday, speaking on the same panel as Werner, he talked again about CCAP-lite device based on the Modular CMTS model. By incorporating the DOCSIS Timing Interface (DTI) and Downstream External PHY (DEPI), the access shelf could be used as a sort of super-dense edge QAM in either a modular or integrated CCAP scenario.
"This will save the capital spent with a modular (CMTS) infrastructure when (the MSO) turns up the core CMTS functionality," Finkelstein said.
BigBand says its MSP2800 platform can meet CCAP's downstream requirements today if the MSO is ready from an operational aspect, Kaftan said. The idea that when operators are fully ready to deploy CCAP, an upstream blade could be added, making it fully CCAP compliant.
As for Alcatel-Lucent, which had been talked of as a potential player in the packet shelf side, the company is still participating in working groups and is seriously evaluating both the timing and release cycle of the CCAP market, Wagar said. "We've always believed we have tremendous capabilities at the macro level with the service delivery architecture."
From the perspective of the players who would be in the integrated CCAP space, Cisco is looking at a two-stage process. For now, the company's existing platform matches the CCAP specs, with the possible exception of the height of its CMTS component, John Chapman, CTO ATTG and
Cisco
fellow, said. "This is a huge advantage. We enter with a mature product...We have time to do the next gen platform well.
Monta Monaco Hernon is a freelance writer. She can be reached at mcmhern@yahoo.com.