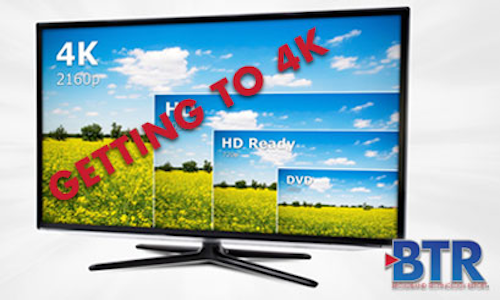 The media landscape is evolving rapidly as consumers take control of the way they consume content. This is forcing the industry to adapt by providing more engaging and rewarding experiences to customers in order to stay competitive. This is apparent especially in the world of live video content. The growing appetite for local and global live content, in particular 4K and other UltraHD formats, is forcing broadcasters to think hard and fast about making huge investments in upgrading current equipment and employing more personnel to meet this demand. In order to avoid this cost-burden, however, many are turning to remote production as an effective way to produce more high quality live content with a reasonable cost structure.
Remote production - producing more for less
Remote production involves transporting all video signals from a venue to a central production site. This approach avoids the considerable costs involved in sending fully staffed outside broadcast (OB) trucks and equipment to event venues to produce live content. Using fewer OB trucks and less equipment has its obvious cost advantages, but the key driver behind remote production has been the more efficient use of a broadcaster's most precious resources - namely its talent. Using remote production means more live content can be produced with fewer resources.
As live broadcasting develops, broadcasters and network providers need to change how they work to capitalize on evolving audience expectations for new TV experiences. Not only do they need to produce more high-quality content, such as 4K and in the future expand to 8K, they also need to efficiently transport this type of content to remain competitive. With this shift comes a new level of technical challenges related to more dynamic behavior in the transmission connectivity between broadcaster facilities, production houses, virtual studios and event venues.
Flexible, on-demand transmission charged by the minute
As the volume of live content increases, so does the volume of video signals transmitted across networks. This places enormous pressure on network providers delivering live video services to meet today's audience expectations of "any content, anywhere, at any time." One solution to alleviate this pressure is a customer provisioned network (CPN) built on the concept of software defined networks (SDN). This will allow broadcasters to book long distance connectivity in a service provider network, on-demand and on a per minute basis. To support real-world decisions, a CPN must display availability and pricing information in real time. With this information, broadcasters can integrate long-haul video transmissions into production processes and embed it into automated and dynamic workflows. The broadcaster can then maintain full control of transmission capacity. With this solution in place, service providers can completely automate the booking and reservation of capacity in networks, both for immediate and future use.
There is clearly a need in the industry, from a service provider's point of view, to offer changes in connectivity quickly and efficiently, and similarly a need for broadcasters to have flexibility in offering their consumers live content. In the new media era, this shift to more dynamic ways to transport media content is key to maintaining customer loyalty and keeping customers engaged. By introducing a fully integrated CPN, both broadcasters and network service providers have numerous advantages to gain.
Benefits of a CPN
Because a CPN can automate the entire order to bill process, the need for manual interaction and human intervention is drastically reduced. This minimizes the potential for human error and saves resources that represent significant savings in both time and money.
There is also improved utilization, offering service providers the opportunity to use network capacity and resources more efficiently. The ability to book capacity with time-based consumption and pricing reduces the need to pay for dedicated capacity. It also gives broadcasters greater flexibility in the way they work, as all capacity and resources in the service provider network are always available when needed.
It is also a remote production enabler, making remote production of live events much easier to conduct. Broadcasters can send cameras to where the action is and the feed to where production takes place. This removes capital expenditure (CAPEX) associated with outside broadcast (OB) trucks and reduces operating expenditure (OPEX) of large onsite technical and production teams. Broadcasters can simply send a camera crew to an event and then use a CPN to send live feeds directly to a central production facility.
In addition, a CPN allows network service providers to apply flexible and adaptive pricing models. With a system that keeps track of all resources and attaches financial value to them, the ability to create pricing models improves substantially. Introducing usage-based per-minute pricing also enables time differentiated pricing.
Furthermore, the introduction of such a solution can improve service offerings. In today's networks, customers are typically provided with a number of dedicated ports in a virtual network. A CPN, however, gives customers a controlled way to book resources in the network, which allows for greater flexibility in how customer virtual networks are built. It also means that ports can be shared with other customers and booked on a first-come, first-served basis.
Another benefit is forecasting and maintenance. With a system that is capable of taking bookings and modeling the network, service providers have a tool that accurately forecasts future capacity needs. This view into the future is invaluable for scheduling maintenance, while resources such as links or nodes can be made unavailable at any given time, and services booked during that window made available on alternative paths.
Conclusion
A CPN is a powerful solution in helping service providers develop new business and pricing models in addition to simplifying operations. In addition, it reduces human error and frees up resources that would normally be used for administrative tasks such as booking capacity. All of these benefits can have a massive impact on revenue. In the meantime, in the fast-paced world of live broadcasting, broadcasters can respond to changes with the flexibility and speed that live and on-demand services today require, helping them to take control of both content and the hearts and minds of consumers.
Alexander Sandström is a strategic product manager at Net Insight. Reach him at alexander.sandstrom@netinsight.net.