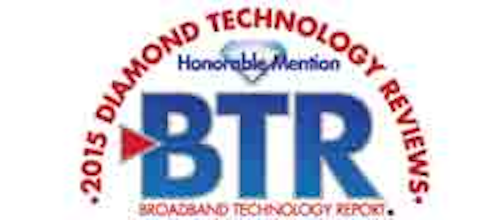 Each year, Diamond's judges are asked not only to score products, but also to highlight those they think deserve to be singled out for special recognition. They bestow an Honorable Mention designation on those products and companies, which demonstrate a unique purposefulness or technological advance.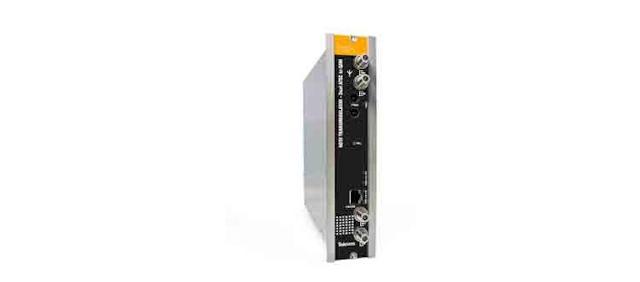 For example, judges felt the Televes USA ATSC/QAM to QAM Transmodulator had "excellent" physical characteristics, including space efficiency, standard racking, standard power supply and heat management.
"The available mode for QAM regeneration for long haul or overcoming effects of outside plant distortions is a definite plus for larger operations in mature plants," one judge added, noting that readiness for 1,024-QAM in 1 GHz distribution adds future value.
Televes describes its Transmodulator as a small form factor product that allows operators to convert over-the-air signals to QAM, save spectrum, regenerate weak or degraded QAM signals, cherrypick services, and move QAM channels around. It uses the same power supply and remote control capability for operator management as the other members in the T.0X family of headend products.
More specifically, the Televes ATSC/QAM to QAM Transmodulator takes two ATSC over-the-air channels and multiplexes them into one QAM channel. The ability to manipulate PSIP tables allows operators to set virtual channels to whatever they want within three channel types - TVCT, CVCT1 and CVCT2.
"This not only provides for twice the number of off-air channels in the available spectrum, but it also provides the operator an ability to number the virtual channels in the best method for their customers and regenerate potentially weak signals into a stronger, cleaner QAM signal for better customer quality," Televes said.
For a one-to-one output, two QAM channels are available. Operators can also use the Transmodulator to change frequencies of existing QAM channels to move a carrier as it is ingested from one system and output on another or to regenerate a QAM carrier that may be degraded in a large plant due to passive and active elements.
"This unit will also allow the operator to cherrypick services from the input in order to remove unwanted services and allow only the wanted programming content through to their customers," Televes said.
Additional products receiving Honorable Mention designation include:
Alpha Technologies FP1232-D and DP1250-D [http://www.broadbandtechreport.com/]
Alticast AltiProtect UHD [http://www.broadbandtechreport.com/]
ARRIS ME-7000 Converged Video Compression Platform [http://www.broadbandtechreport.com/]
Greenlee Communications DataScout 1G [http://www.broadbandtechreport.com/]
Harmonic Electra X Advanced Media Processors [http://www.broadbandtechreport.com/]
NetCracker Technology NetCracker 10 [http://www.broadbandtechreport.com/]
Qwilt QB-Series Video Fabric Controller [http://www.broadbandtechreport.com/]
Trilithic 802 AWE [http://www.broadbandtechreport.com/]
Trilithic Seeker D Lite [http://www.broadbandtechreport.com/]
Triveni Digital StreamScope RM-40 [http://www.broadbandtechreport.com/]
Universal Electronics QuickSet 3.0 with Control Plus [http://www.broadbandtechreport.com/]
Viavi Smart OTDR [http://www.broadbandtechreport.com/]