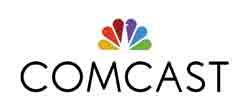 Comcast (NASDAQ:CMCSA) is increasing the downstream speed of its Performance 25 Xfinity Internet tier to 55 Mbps at no charge in a number of markets in the western United States.
The upgraded web tier, rebranded as Performance Plus, is immediately available in Washington, Oregon/SW Washington, southern Arizona, Utah, Colorado and New Mexico. The New Mexico launch includes Comcast's Albuquerque, Farmington, Las Cruces and Santa Fe service areas.
To receive the new Internet speeds, most customers only need to re-set their modems by unplugging the equipment from the power outlet. Comcast will notify any customers who need to upgrade their equipment. Those who currently have a modem from the company will not be charged to upgrade their equipment, while those who own their own equipment will need to either purchase new equipment or lease a modem from Comcast to receive the increased speeds.
"We've increased speed for nearly every year for the last 16 years," said Merlin Jensen, area vice president for Comcast's Utah market. "We want to ensure that our customers have the best possible online experience and the ability to have a connected home so customers can enjoy multiple devices at the same time."
Comcast launched the Performance Plus upgrade in its California markets in May, and in Minnesota and Kansas City in March.