Keeping EPoC Delay to a Minimum
May 30th, 2012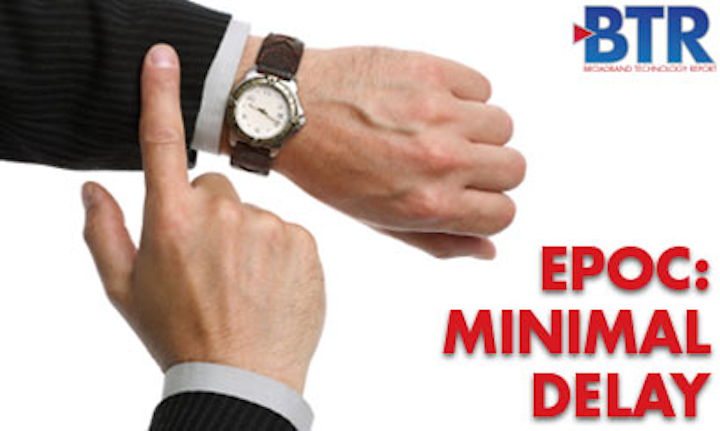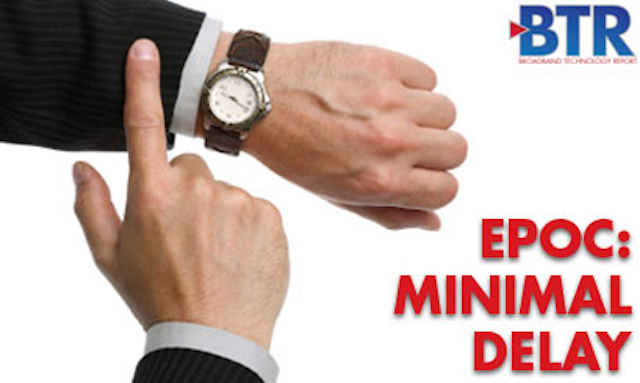 If the
IEEE
's EPON Protocol over Coax (
EPoC
) spec becomes a reality, one way that cable operators could use it is as a substitute for pulling fiber all the way to the home or business. For this to work, however, the impact of round-trip delay must be taken into account, said Edward Boyd, senior technical director,
Broadcom
(NASDAQ:
BRCM
).
This is one of the many things the IEEE 802.3 EPOC study group, of which Boyd is a member, is investigating as it explores the intricacies of a potential physical layer (PHY) standard that would allow Ethernet to operate seamlessly between fiber and coax. In a paper co-authored with
Time Warner Cable
's (NYSE:
TWC
) Kevin Noll and presented during a panel at the Cable Show, Boyd suggests that the delay be kept at around 1 millisecond (ms).
"At around 2 ms, you have to change the way you do voice services," Boyd said.
This compares with fiber where the propagation and physical layer delays are around 250 microseconds (µs), or one-quarter of a millisecond, for a 20 km network. The difference with coax begins with the fact that the length of the network may be longer, and operators must compensate for things like bursts, narrowband interference, multipath reflections, etc.
While longer symbols and interleavers can be used to combat this noise and to achieve a higher modulation order, they also add delay, Boyd said. Similarly, operators like the concept of time division duplex (TDD), where the upstream and downstream take turns in an open frequency band. However, turning the transmitters on and off to switch directions adds significant delay.
As far as what the outside plant would look like, in order to keep the delay to a minimum, the media converter should be kept simple with no scheduling on the coax, Boyd said. "A device (could) be out in the node or last amplifier that does digital return and has RF on the other side to the coax."
The IEEE study group is expected to transition to a task force in July, and Boyd estimates an approved standard somewhere in the vicinity of two years. The current challenge is controlling the scope of the project. While the temptation is there to make changes in the MAC layer to improve efficiency, keeping the focus on the physical layer will result in a speedier timetable for the standard, Boyd said.
"Most of the analysis presented is that (EPoC) can perform very well with the MAC layer and functionality already available in EPON," Boyd said.
Monta Monaco Hernon is a free-lance writer. She can be reached at mcmhern@yahoo.com.