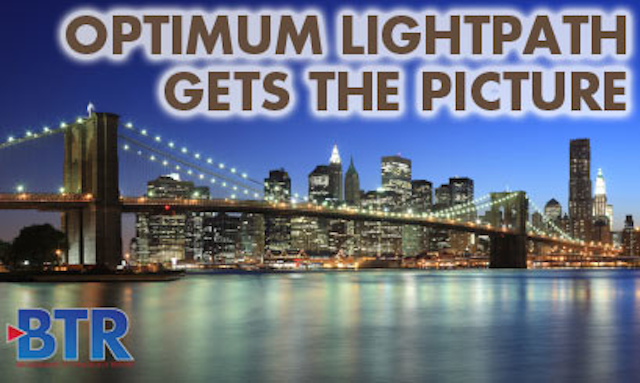 Optimum Lightpath positions its new uncompressed video service as a logical step in the company's strategy of catering to companies in demanding verticals in the tough New York City metro area.
More specifically, the company's Managed Video Services now will support 1.485 Gbps high definition serial digital interface (HD SDI) of uncompressed video in a dedicated wavelength.
Compression -- even the slightest bit -- by definition removes data from an image and degrades its quality. This degradation generally goes unnoticed. But it can be a big deal where extremely high quality images are needed, such as in video production and medical imaging. "The reason we enhanced the product was to address what is happening in the video space," said Julia McGrath,
Optimum Lightpath's
senior vice president of marketing and business development. "There is a lot of chatter about things like 3D content in addition to HD. We want to be in the forefront of all those discussions."
McGrath would not discuss specific clients on the network, though she said that it has been operational for the past several weeks. It's interesting that McGrath said that there are no plans now to use the Managed Video Service in conjunction with Cablevision's core residential offerings.
The complete separation of Optimum Lightpath and Cablevision is typical of how the company operates. The philosophy from the start has been to position Lightpath as a completely separate telephone company, not a "bolt on" to the entertainment entity. This separation is not just for the marketing department: Lightpath does not rely on any coaxial infrastructure. "We believe we are the largest 100% fiber operation in the area. There is no kluged last-mile stuff."
It is likely that the wisdom of completely disassociating Lightpath and Cablevision was the result of the initial assessment of the market in which they are playing. The New York City metropolitan area marketplace is a cauldron of battling carriers and service providers. Entering the market with a "me-too" service offering competing on price alone and relying on a hybrid fiber/coax (HFC) platform would have been a tactically poor approach. "That business looked different than CATV," McGrath said.
Erin Dunne, the director of research at
Vertical Systems Group
, said aiming directly at high value verticals with specialized and higher end services made far more sense. These verticals include media and entertainment, health care, education and financial services -- all sectors with a strong presence in the region. "They focus on a fiber footprint to business locations in the metropolitan New York region and did an extremely good job. They have a very high penetration in that market," she said.
Dunne saw the new video service offering in this context. "It is ... quite honestly a natural progression of their existing service," she said. "This type of service does quite well for Optimum Lightpath. They focus on it. They have dense fiber either already available at location, or they are willing to get it to you with a buildout."
The new service is an outgrowth of the strategy. Indeed, both Dunne and McGrath pointed to a different approach taken by Optimum Lightpath than other cable operators. Lightpath, McGrath said, decided early on to create an entirely separate, Ethernet-based infrastructure that shares nothing with Cablevision's residential network. Currently, McGrath said, the company has more than 5,000 active locations.
Dunne agreed that that Lightpath followed its own path. Time Warner Cable and Cox, she said, have been in the market for about as long as Lightpath. Their path, however, is different. The two MSOs are leveraging their coaxial infrastructure and thus are strong players in lower speed and more price-sensitive Ethernet services sectors. Comcast, though it is a big player due to its size, is a relative newcomer to business services.
Optimum Lightpath's approach can be seen as controlled by two variables: The vertical and size of the business. Carriers and service providers define the parameters of these groups differently. McGrath said Lightpath's strength starts at companies spending $1,500 to $10,000 per month and extends all the way up to true enterprise class. "As you go up market, the complexity of the product is very, very different than what we see from other MSOs," McGrath said.
Each company has made the best decision based on conditions within its footprint. It seems that the most differentiated may be Optimum, perhaps because of the unique nature of the New York metropolitan area. "Optimum Lightpath is completely different than the others," she said. "They came out of the box early, focused on fiber-only and focused on a fixed set of verticals with higher speed pipes and lower latency."
The next big change likely will be a good one for cable operators. The wireless industry already is showing signs of buckling under the pressure of 4G backhaul demands.
Wireless carriers show signs of preferring cable operators for this lucrative business. MSOs' infrastructure is near cell towers, which tend to be in residential areas. Beyond that, wireless carriers are likely to resist giving business to wireline carriers if there is a choice and they are competitive at the ownership level with one of the potential partners. For instance,
Verizon Wireless
may favor a cable operator over
AT&T
for backhaul services. Optimum Lighpath has a telephone company profile, however, so the first advantage -- the location of its infrastructure -- may be neutralized. The bottom line is that it remains to be seen if Lightpath or Cablevision benefits more from the explosion of 4G services.
Carl Weinschenk is the Senior Editor of Broadband Technology Report. Contact him at carl@broadbandtechreport.com.