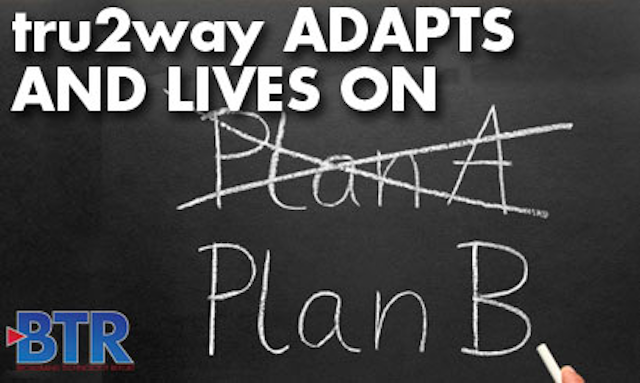 tru2way is alive and well. It just isn't being used in precisely the way it was intended.
The key to succeeding in a mercurial environment is the ability to adapt, and tru2way is showing itself to be extremely flexible. The initial mandate for tru2way -- as a way to separate conditional access from the other functions of a set-top box (STB) -- was a non-starter.
"From the standpoint of the progress that has been made for a product for retail, nope, it's not there," said David Housman, the CEO of
Alticast
. "But what I would call the OCAP software spec is still being deployed and now is in millions of boxes between deployed between
Bright House, Cox, Cablevision
and by
Videotron
via their April 4 announcement."
tru2Way -- which is the marketing name of the OpenCable Application Platform (OCAP) specification developed during the past decade or so by
CableLabs
after the FCC mandated that conditional access be segregated from the other functions of a set-top box -- has been redirected to help cable operators deal with the burgeoning world of interactive TV.
The most recent example -- and a vibrant one -- is Videotron's use of tru2way to radically update its service offerings. The operator's new interactive illico service began rolling out last week and will spread across Videotron's entire footprint this summer.
Cisco, Samsung
and Alticast are vendors to the project.
Pierre Roy, the vice president of engineering, research and development, said tru2way enables the service to be used across STBs from all of the MSO's vendors. It can do so with a consistent look at feel, he said. The service includes on-demand films, one-click recording, a programmable program guide, parental control and interactive apps offered to subscribers via "widgets."
At this point, Roy said, Videotron is using the Internet protocol as a control mechanism, not as the primary programming stream. IP video, he said, will come in time. "tru2way is a technology enabler," Roy said. "We have multiple set-top boxes, and [using tru2way] can have a single look and feel and not have a closed environment. It lets us offer features in a much faster way."
Housman's point is that the initial motivation for tru2way -- creating separate realm for the conditional access -- almost unwittingly created a platform that was more amenable for the complex world of IP-based interactivity and multiscreen fulfillment that developed in parallel to the development of OCAP/tru2way. Operators now have a good deal of flexibility in how they use the two. tru2way, he noted, is an operating system. It can work with Android or other OSs. It is a fluid world in which the pieces can be put together creatively.
Satisfying the FCC's requirement was a blessing in disguise that seems to have set the industry up for success, Housman said. "The whole premise of OCAP was to open retail," he said. "The industry knew the software also was very powerful. We are starting to see operators get aggressive in offering a more compelling service. Videotron is a good example. They are coming out of the gate with many applications. They went to an "A level" on day one. They came out with premium products on OCAP."
Housman is optimistic about the industry's ability to leverage OCAP/tru2way going forward. One thing is clear: The FCC's mandate to separate CA and other STB functions only is a small part of what the technology can do.
When the initial spec was developed, Housman said, "IP and OTT were not looming in the forefront; but now -- because the spec takes control of the middleware layer -- you can now can add to the software and bring in OTT. You can create a home gateway, if you will, using the bulk of OCAP and adding what you want to that."
In other words, tru2way is a bit of a happy accident. The deconstruction of the cable box began as a way to encourage retail sales and break what was seen as the cable industry's monopoly. It is continuing in an entirely different era in which the very idea of subscribers' viewing being limited a device atop a TV set is as antiquated as rabbit ears. In the process, tru2way has emerged as the platform that can tie together these old and new worlds.
The future seems bright for tru2way. The lesson is that it pays to be good and a bit lucky as well. "We had a lot of people say, 'Gee, OCAP is dead.' OK, but define 'dead.' It certainly is different than it was originally intended, but it continues to morph or evolve or however you want to phrase that. The industry is looking at ways to split the OCAP baby. We've built a really big and powerful and strong platform."
Carl Weinschenk is the Senior Editor of Broadband Technology Report. Contact him at carl@broadbandtechreport.com.