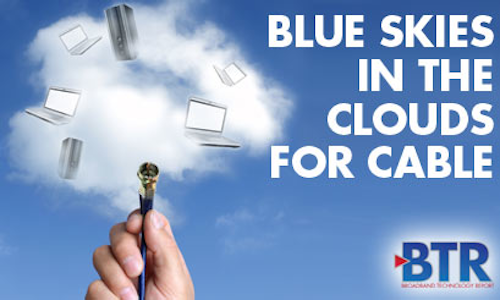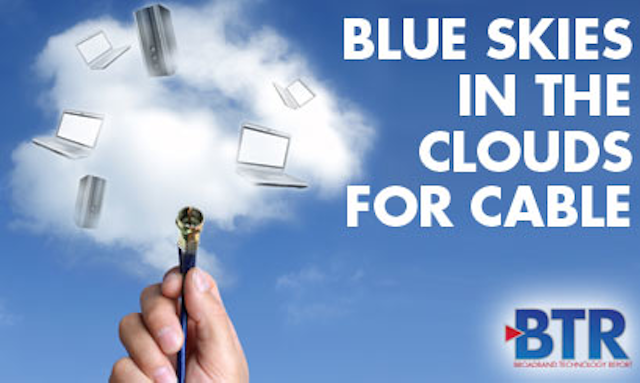 The cable industry's already deep use use of cloud computing will grow and evolve this year, according to close observers. They predict that operators will experiment with their use of the cloud -- and begin the move fully from private to public and hybrid implementations.
Big cable operators today liberally use private clouds. Both these top 10 players and tier 2 and 3 operators -- which have significantly different financial and personnel assets and business models -- will start tapping into creative use of public clouds. For the bigger players, it will be as adjuncts and add-ons. The smaller operators may use cloud-based services as a key weapon in the battle against satellite services.
The bottom line: In one way or another, the cloud will grow as an industry presence. "The [public] cloud will become a mainstay in 2012," said Sam Barnett,
Infonetics Research's
directing analyst for data center and cloud. "The comfort level is on the rise, and businesses are willing to migrate."
Indeed, it is difficult to find an area in which the cloud isn't a current or potential enabler for cable operators. It starts with the most obvious: Cloud is an important element of content delivery networks (CDNs), the large networks that distribute programming to operators' footprints in as efficient a manner as possible.
Operators today widely use private clouds to support their CDNs, Barnett said. Indeed, Barnett said that private clouds and CDNs are roughly synonymous. He suggested, however, that a trend -- which will take on in earnest this year -- will be to begin using public clouds such as those from
Google
and
Amazon
for mission-critical applications including video storage and transmission. "The big issue with cloud right now [is that] there is not a high level of trust," he said. "Applications that are farmed out to the public cloud are not necessarily those that are mission critical."
That increasing acceptance of public cloud infrastructure is likely for a number of reasons, Barnett said. Operators' comfort level with the public cloud will grow. This attraction will be encouraged by the same thing that attracts many businesses to the cloud: the ability to transfer capex to ongoing opex expenditures. Perhaps most importantly, operators will increasingly need to reach up to the skies as a way to support subscribers who, for the first time, will in large numbers use mobile devices to get video programming outside the home.
To some extent, it is misleading to refer to the cloud as a single type of entity. There are many definitions to this broad and amorphous emerging infrastructure. Edgar Villalpando,
ActiveVideo's
senior vice president of marketing, said that conceptually the cloud works on many levels. It can simply be a place to store data, a storage repository with a pipe for delivery, a storage/pipe with the ability to link to other clouds or, in its most ambitious configuration, all of those things combined with the intelligence to add value by doing such things creating uniform user interfaces or pushing content to specific users.
It also can also act as sort of a giant middleware layer as operators deal with homes that are filled with new and old set-top boxes from the same or different vendors. The goal is to offer the same user experience to end-user devices served by all of those boxes as well as smartphones and tablets. "The need to the service providers out there is that it solves a major, major problem … device fragmentation within the home," Villalpando said. "A home could have two or three different set-top box models, with different operating systems and software and middleware. That prevents operators from putting out the most interesting and rich guides for cool navigation."
It is clear that video is a key driver of the cloud. But it is by no means the only way in which the potent new delivery model will be a boon to cable operators. Alistair Chatwin, the director of product management for
EchoStar
, pointed to metadata-level tasks that can be performed in the cloud whether the content itself is in there or in proprietary, non-cloud databases. Similarly, manifest files that are used for ad insertion can be managed via the cloud. A third operator use of the cloud will be for non-content uses, such advertising sales and human resources tasks. These are available now in on-demand packages offered by
Salesforce.com
and other vendors.
Another use of the cloud is to remove economic barriers that have made hyper-local programming expensive and cumbersome, said Jesse Lerman, the CEO and co-founder of
TelVue
. The bottom line is that the cloud is an almost invaluable tool as the cable industry adjusts to the realities of modern telecommunications. "The cloud is growing," Lerman said. "That's where content is created and stored. Cable has to stay on the cutting edge."
The sense is that, like Rick and Major Strasser in
Casablanca
, the cable industry and cloud providers are on the precipice of a beautiful friendship. "You can't deny that it has an incredible set of benefits," Villalpando said.
Carl Weinschenk is the Senior Editor of Broadband Technology Report. Contact him at carl@broadbandtechreport.com.