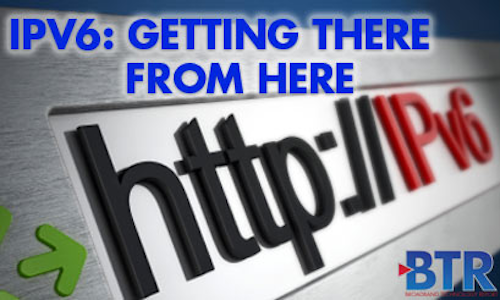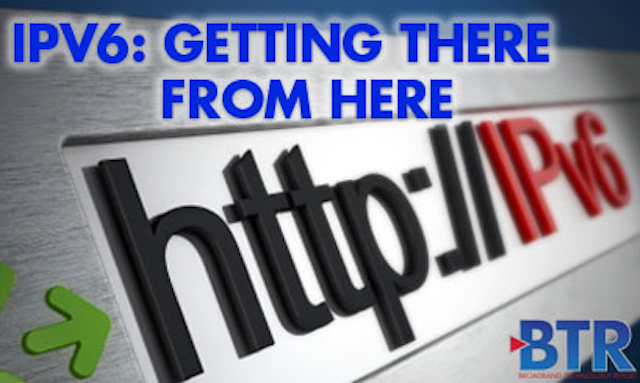 The transition from IPv4 to IPv6 has been going for a long time. It has entered a new state, however, as systematic deployment and implementation has overtaken planning, testing and trials as the predominant activity.
Though it doesn't get the exposure of some other initiatives - perhaps because it is not cable-specific - few developments are as important to the future of the industry IPv6. Simply, operators who don't adopt it will be severely constrained in new service creation because they won't have access to enough IP addresses.
It is accepted that
Comcast
(NASDAQ:CMCSA) has been at the forefront of efforts - both among cable operators and among carriers in general - in preparing for IPv6. John Brzozowski, Comcast's Distinguished Engineer and Chief Architect for IPv6, said the implementation of IPv6 within the MSO's network continues to go smoothly.
In fact, it has become such a cookie-cutter affair that last spring, the initial two-stage approach, in which subscribers' main computer was enabled before the remaining devices in the home, was transitioned to a one-step, whole-house process.
Part of the ease with which the transition is occurring is because of the careful preparations that the MSO made. It also helps that the technological path that Comcast took - known as dual stack - is thought by experts to be the most straightforward and extensible. It also is the simplest to understand: As the name implies, an entirely discrete IPv6 network is built alongside the existing IPv4 infrastructure. Subscribers are switched over as the other links in the chain - the nature of the content itself and the capabilities of the end user equipment - also become IPv6-enabled.
Currently, Brzozowski said, about half of Comcast's footprint is IPv6-enabled, with the other half set to have their IPv6 switches turned on next year. It is important to note that enabling IPv6 in an area doesn't mean that everyone is using it. Far from it: Brzozowski said that actual usage is at almost 2.5% of subscribers in the enabled sector of the footprint.
Brzozowski is not upset at the current level of use and said things will accelerate during 2013 and beyond - especially as lucrative but address-intensive new applications become available. "The last seven to 10 years was designing brand-new roads," he said. "Only now are they starting to fill up. People are just starting to use them. There is a lot of innovative work that IPv6 can fuel 'Jetsons'-type of advanced services. I think some of the home automation and security projects you see fall into that category."
To a great extent, moving that usage number past 2.5% depends upon the cooperation of two groups over which carriers have no direct control. The first is the content distribution community. While carriers certainly have some sway over these groups - especially those in which they have an ownership interest - the service providers can't mandate anything.
The second group may pose more of a problem. The massive consumer electronics industry must build a generation of equipment that is IPv6-capable and is delivered to buyers with IPv6 enabled by default. The CE industry is slow, price-conscious to a fault and loathe to implement changes, even those that it acknowledges are beneficial. Brzozowski said the consumer electronics industry's adoption of IPv6 is a long-term transition that will last into the latter part of the decade.
Comcast gets high marks for its IPv6 efforts. "They are doing a fantastic job from tech perspective, and they engage in large-scale educational process for staff," said Chip Popoviciu, the CEO and president of
Nephos6
, a company that works with service providers on the migration to IPv6 and cloud infrastructures. Nephos6 has worked with Comcast on the education front, Popoviciu said.
The goal for the industry should be to emulate Comcast more closely. The reality is, however, that such initiatives may not be happening. Brzozowski said the progress he sees from other operators varies. "I think some of the smaller MSOs are a little further behind," he said. "The good news is that a lot of the other MSOs have the opportunity to come in an find technology that [is established] and a lot more is available off the shelf. That is not trivial."
Popoviciu sees a gap between companies such as Comcast and Rogers and other operators, some of whom are talking the talk but not addressing the addresses. "Comcast is six to 12 months ahead of most U.S. cable providers in terms of both IPv6 implementation and more importantly in terms of readiness to operate IPv6 services. We need to draw a realistic distinction between the World IPv6 launch related marketing messaging and the actual state of IPv6 enablement in most of the U.S. cable market, where much work remains to be done on systems, services and staff readiness."
Carl Weinschenk is the Senior Editor of Broadband Technology Report. He can be reached at carl@broadbandtechreport.com
.