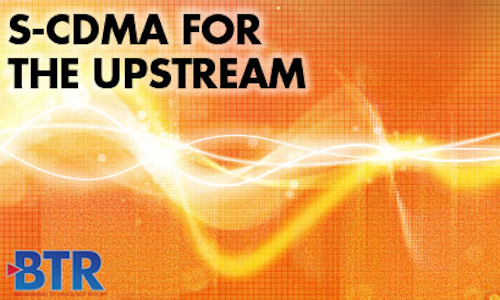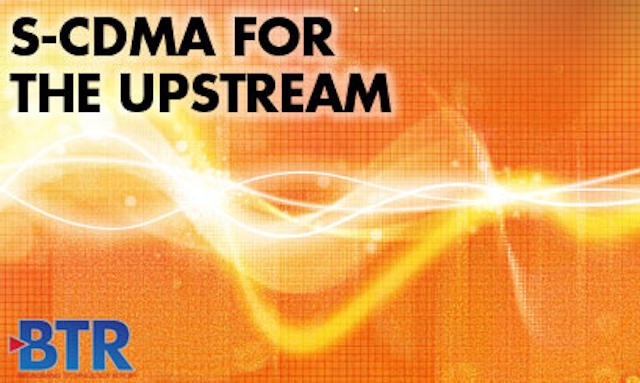 Over the next several years, growth in demand for upstream bandwidth could jump to 30% annually due to an increased use of cloud-based services for applications like music storage, said Jeff Walker, director of CMTS product marketing for
Motorola Mobility
. The anticipation of this as well as competitive pressure from the telcos has resulted in a renewed interest in S-CDMA (synchronous code division multiple access).
"More operators around the world are showing interest in supporting S-CDMA," Walker said. "We have had extensive trials with operators in all parts of the world .... We have done some tests with one of the largest operators in North America that is interested in using S-CDMA in markets where there is competitive pressure."
Right here, right now
In the United States, there has been much talk of extending the outer edge of the upstream band from 42 MHz to 85 MHz and beyond to make way for growth. But by implementing S-CDMA, operators could make better use of the current frequency range and increase available upstream bandwidth by 80% to 100%, Walker said.
Although S-CDMA was a component of
DOCSIS
2.0, DOCSIS 3.0 added an enhancement - Selectable Active Codes 2 (SAC 2) - which further helps to mitigate both impulse and ingress noise. This cleans up the lower end of the upstream band - from 5 MHz to 20 MHz - to be used for channel bonding. And this additional 15 MHz of spectrum can be used for two additional 6.4 MHz DOCSIS channels.
"Most (operators) are at two channels. They are getting ready to look at three. They see the need to get to four channels to support applications like cloud-based synchronization of smart devices," Walker said. "Adding the additional upstream channel, which they can't get unless they are operating S-CDMA, becomes critical."
By opening up new spectrum possibilities, utilizing high modulation rates - up to 256-QAM - and adding the fourth upstream channel, it is possible to reach 140-150 Mbps, said Floyd Wagoner, director of global product marketing and marketing communications for Motorola Mobility.
"S-CDMA is not only the right first approach, it is the most economical approach," Wagoner said. "The other alternatives being discussed in the market are some time out, but are also quite expensive from a capex perspective."
Monta Monaco Hernon is a free-lance writer. She can be reached at mcmhern@yahoo.com.