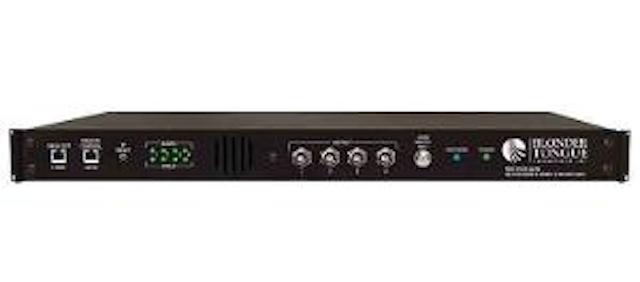 At this year's
NAB
Show,
Blonder Tongue Laboratories
will be introducing three new HD encoders featuring advancements in MPEG-2 and H.264 encoding technology.
The HDE-2H/2S-QAM is designed to receive up to four HDTV programs from any two unencrypted HDMI, two HD-SDI, and four component inputs and to provide outputs in QAM, IP, and ASI formats simultaneously.
The HDE-4S-QAM is designed to accept up to four HDTV programs in HD-SDI and component formats. The unit is also designed to run output in QAM (four adjacent channels), IP (GigE/1000BASE-T Ethernet), and ASI (four streams) simultaneously.
The HD264-2S-IP is designed to accept up to two programs from any two HD-SDI, two unencrypted HDMI, and two component inputs. It first digitizes, and then H.264 encodes the inputs into two HD single-program transport streams, and ultimately IP encapsulates each stream into an IP output. Each SPTS is also available in ASI format.