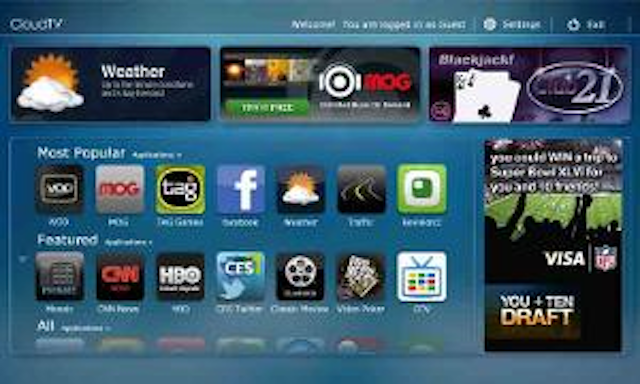 At the Cable Congress in Brussels, Belgium, March 7-9,
ActiveVideo Networks
will demonstrate its new CloudTV H5 platform, which is designed to combine HTML5, MPEG and H.264 for development and deployment of apps to digital set-top boxes, CI-Plus enabled TV sets, or connected CE devices.
CloudTV places the user interface and the application platform in the network cloud to enable new apps and navigation tools, including voice-control, to be delivered even to the oldest digital set-top boxes. It's designed to allow any content or application created in HTML5 to be processed in the network cloud, and delivered as an MPEG or H.264 stream.
Designed to interface with existing cable operator network infrastructure, the CloudTV H5 platform executes and renders the complete application in the cloud. The application is delivered as a personalized, adaptive video stream to the set-top box or connected device, which passes remote control key clicks or keypad entries back through the network to the cloud. Because CloudTV leverages processing in the cloud, not the device, it can be deployed without changing or adding devices in the home.