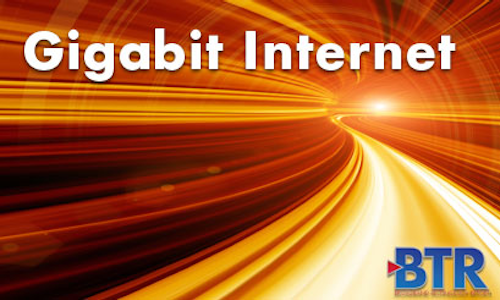 The gigabit Internet news has been coming fast and furiously since the first of the year. Here is a recap of some of the most recent news.
Windstream (NASDAQ:WIN) has launched gigabit Internet service in four new markets. The service will be available to approximately 35,000 residential and small business customers in Lincoln, NE; Lexington, KY; Sugar Land, TX; and seven North Carolina communities (China Grove, Concord, Davidson, Harrisburg, Kannapolis, Lewisville and Matthews).
Jasper Highlands - a residential community in Kimball, TN, just west of Chattanooga - has launched gigabit Internet service for its residents by becoming its own Internet service provider (ISP), Hi-Tech Data. The strategy was orchestrated and funded privately by Jasper Highlands owner and developer John Thornton. Because Tennessee bans expansion of municipal broadband networks, Thornton went just across the state line to connect with North Alabama Electric Cooperative, along with assistance from Tennessee-based Sequachee Valley Electric Cooperative.
AT&T (NYSE:T) launched its fiber-based 1 Gbps Internet service to residential and small business customers in the Los Angeles metro area. The first communities to have access to GigaPower are parts of Eastvale, Irvine, Los Angeles and Orange County. The next will be Arcadia and Glendale. Overall, the telco announced plans to triple its availability in the LA area and double its availability nationwide by the end of the year. GigaPower is now available in 20 metro areas, including communities in Chicago (Hampshire, Munster and St. John), Dallas (Richardson), Houston (Friendswood, Pearland, Manvel and Missouri City), Miami (Coral Springs, North Miami, and Tamarac), and San Antonio (Converse).
Altice (Euronext:ATC), which recently acquired Suddenlink, has said it will continue to support Suddenlink's Operation GigaSpeed - a plan to have 1 Gbps service available in all Suddenlink markets by the end of 2017. The most recent addition to the list was New Bern, NC. Altice also announced that it will deploy the ARRIS' E6000 Converged Edge Router (CER) with SFR in France and Orange-Tricom in the Dominican Republic. It will also expand the E6000 footprint in the Suddenlink markets.
South Korean operator LG U+ will expand the deployment of ARRIS' (NASDAQ:ARRS) E6000 CER across its nationwide footprint. The E6000 already has been deployed in major metro areas.
Comcast (NASDAQ:CMCSA) has begun an advanced consumer trial of DOCSIS 3.1-based gigabit Internet service to a number of neighborhoods in Atlanta and plans to roll out to more markets later this year. Those selected for the trial will be among the first to experience DOCSIS 3.1 technology over the existing communications lines to their homes. They can choose from a promotional contract price of $70 per month for 36 months, or $139.95 per month with no contract. Comcast has plans to roll out similar gigabit service in the Nashville area early in 2016, and in areas of Chicago, Detroit, and Miami during the second half of the year.
Mediacom Communications, which is celebrating the 20th anniversary of its first cable system purchase, plans to invest $1 billion over three years to upgrade and expand its broadband network. One of the first initiatives will be Project Gigabit, a plan to make 1 Gbps Internet services available to almost all of the 3 million homes and businesses within the MSO's 22-state footprint. Other projects include expanding Mediacom Business' fiber network in downtown areas and commercial districts; expansion of the residential video, Internet and phone network to pass an additional 50,000 homes; and deployment of community WiFi access points in commercial and public areas.
Cox Communications is launching G1GABLAST residential gigabit Internet service in Tucson, AZ, beginning with The Place @ Presidio Trails. It will be $99.99 per month if bundled with other Cox services. G1GABLAST, based on RFoG, was first introduced in Phoenix in 2014 and is currently available in parts of 10 states.
Ting, a division of Tucows (NASDAQ:TCX), wants to bring fiber-based symmetrical gigabit Internet service to the Sandpoint, ID, area. Much like Google Fiber (NASDAQ:GOOG), Ting is using a pre-order process in Sandpoint, Dover, Ponderay and Kootenai to assess demand and determine where to build. If there is enough demand, network construction will begin later in 2016. Ting's Gigabit costs $89 per month for a home and $139 per month for business. The company first launched the service in Charlottesville, VA, in June 2015 and started a demand assessment in Holly Springs, NC, in October.
Sonic has launched fiber-based 1 Gbps Internet service, called Fusion Fiber, in the Sunset and Richmond Districts of San Francisco. It will cost $40 per month, including phone service. The Bay-Area ISP already had deployed gigabit services in Brentwood and Sebastopol, in addition to business parks in Santa Rosa, Petaluma, and Windsor. These deployments use FTTH technology from ADTRAN (NASDAQ:ADTN).
Google Fiber announced plans to deploy gigabit Internet service to some apartments, condos and affordable housing properties in San Francisco using existing fiber, rather than building a network from scratch. The search giant says the decision was based on speed to market and a challenging geography. Google Fiber also announced it will run a municipally owned network in Huntsville, AL, rather than build its own.