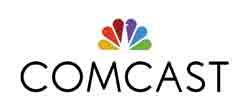 Comcast (NASDAQ:CMCSA) has announced plans to deploy DOCSIS 3.1-based gigabit Internet service early next year in Utah, Oregon and southwestern Washington.
Comcast currently offers Gigabit Pro across its Utah and Oregon/SW Washington service areas, a symmetrical 2 Gbps fiber-based product that requires a professional installation and equipment. The DOCSIS 3.1 gigabit service uses the existing HFC plant and inside wiring, which makes it quicker and cheaper than fiber-to-the-home (FTTH) to deploy widely. To get the service, customers need only to install a new DOCSIS 3.1 modem.
"We know that our customers expect to have immediate access to content, such as digital media, music and photos, and the desire to connect an increasing number of devices in the home continues to climb," said Merlin Jensen, vice president of technical operations, Comcast Utah. "We're excited to be able to continue to meet the ever-changing needs of our customers by investing in our network to bring gigabit speeds to homes across our state."
Earlier this week, the MSO deployed DOCSIS 3.1 in Detroit and announced plans for 2017 rollouts in some of its California markets. Comcast previously launched DOCSIS 3.1 in Atlanta, Nashville and Chicago. The company also plans to launch in Miami before the end of the year. The MSO installed its first DOCSIS 3.1 modem in Philadelphia last December. The fiber-based Gigabit Pro service is now available to 18 million homes across the country.