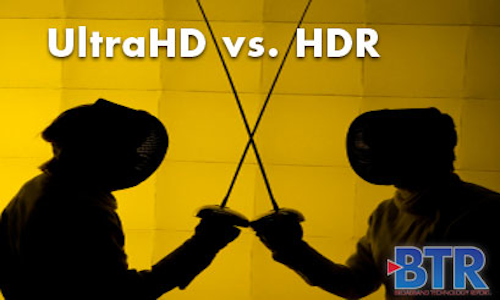 Amongst the future prognosticating being done as the new year launches is a question whether consumers will become disillusioned with UltraHD, the way they did with 3D. The reason would not be a negligible improvement in consumer experience, but rather too much competition and conflict between standards and technologies, said Tom Munro, CEO of Verimatrix.
For a while, the industry has talked up 4K and the impact of its higher resolution and frame rates. Smart TVs being billed as 4K-ready have been selling at an attractive price point, although those purchasing them are likely doing so more because of the smart technology as opposed to the 4K video source, Munro said.
Studios are finding 4K content very expensive to create, and pay TV providers can't yet deliver it over their networks. It is the OTT [http://www.broadbandtechreport.com/video/ott.html] providers like Netflix (NASDAQ:NFLX) and Amazon (NASDAQ:AMZN) that are mastering content in the higher definition and delivering it over the Internet to the TV set.
In the meantime, companies like Dolby have been working on ways to make things like colors, contrast and shading appear on television much closer to the way they look in real life via high dynamic range (HDR). Some are now saying that HDR is more important than 4K. For example, CableLabs has been experimenting with HDR at its Louisville, CO, facility and finding that perceived picture quality is more than just a matter of pixel density.
"It might be a bit of a bait and switch, and now (some are) saying we don't need (higher resolution), but rather (need) HDR," Munro said.
So with the OTT guys garnering competitive headlines by being able to provide 4K content, what's an operator to do?
"I would say what we are seeing is planning, discussion and bet hedging," Munro said. Operators are making decisions about set-top box chips that support HEVC for advanced compression in anticipation that they could deliver 4K even though there is no 4K service today.
"They are future-proofing by making that investment," Munro said. Operators would hate to deploy a million set-tops without the capability only to find out later that it actually is needed. "It is a reasonable bet to make."
With HDR, the question becomes whether consumers will notice the difference and pay for it, Munro said. A downside is that although there is work being done, there are still unresolved standards related to HDR. The plus is that HDR doesn't need the same bandwidth in reserve as 4K.
"Operators still have to sort their way through," Munro said.
For more on the science of HDR video, see this feature by Sean McCarthy of ARRIS: http://www.broadbandtechreport.com/articles/2015/09/the-visual-science-of-hdr-video.html.