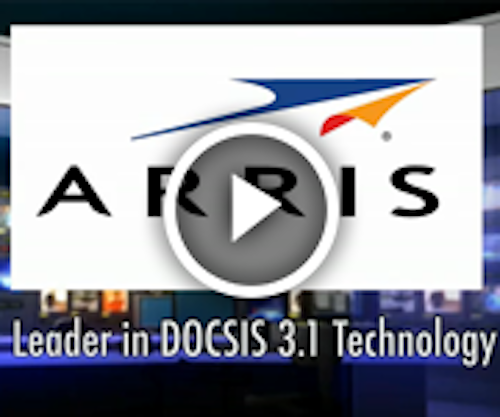 ARRIS was one of the original companies proposing DOCSIS 3.1 technologies to the Cable community in 2012. Since then, ARRIS has been deeply involved in the detailed definition of the DOCSIS 3.1 CableLabs specifications, contributing many useful ideas from ARRIS's talented and innovative engineering teams. To expedite the delivery of DOCSIS 3.1 into the field, ARRIS opted to integrate DOCSIS 3.1 functionality into existing CCAP equipment to ensure that MSOs would have timely and cost-effective solutions. ARRIS also created DOCSIS 3.1 tools to analyze HFC Plant Readiness, providing un-paralleled assistance to MSOs performing early-stage testing of DOCSIS 3.1.
ARRIS has worked diligently to ensure that DOCSIS 3.1 would be delivered to MSOs in record time; an incredibly-short three years from inception to field deployments. The first-announced DOCSIS 3.1 field deployments in the Cable Industry included ARRIS's E6000 CER as the underlying CCAP technology providing the important DOCSIS 3.1 functionality. ARRIS is also creating many other exciting products that will enable mass DOCSIS 3.1 deployment in the coming years, such as the 1.2 GHz CHP Optical Transmitters, the 1.2 GHz OM6000 Node, and the SB8200 data modem along with a full portfolio of DOCSIS 3.1 based voice and data gateways.
ARRIS offers MSOs a broad range of DOCSIS 3.1-capable products that cover all areas of the Cable Network - from CCAPs to Outside Plant Equipment to CPE devices. This product diversity permits ARRIS to ensure that the resulting end-to-end DOCSIS 3.1 solutions will always work for the MSOs.
ARRIS's innovative DOCSIS 3.1 planning tools are used by many MSOs to architect these end-to-end solutions, and ARRIS's DOCSIS 3.1 equipment offers high-performance, great scalability, and ease-of-use. ARRIS's broad experience and expertise are important assets utilized by many MSOs in all aspects of DOCSIS 3.1 deployment - from traffic engineering to system configuration and from installation to performance testing. ARRIS has the tools, know-how, and products to help guide MSOs through every stage of their DOCSIS 3.1 deployments.
ARRIS invests heavily in forward-looking research and is now forging ahead, looking at HPON and Extended-Spectrum DOCSIS 3.1 for bandwidth growth well beyond that available today. Learn more at www.arris.com
Other Resources:
http://www.arris.com/globalassets/resources/white-papers/arris_hfctofttp_whitepaper_final.pdf
http://www.arris.com/globalassets/resources/white-papers/arris_usschedulingind3.1_whitepaper_final.pdf
http://www.arris.com/solutions/docsis-3.1-and-ccap/
For further education on DOCSIS 3.1 solutions for service providers, download the Special Report eBook.