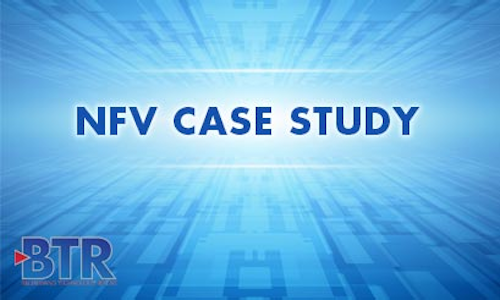 Colt Technology Services has been in the news recently because its largest shareholder, Fidelity, announced it wants to purchase the remainder of the company and take it private. Independent of that offer, Colt has said it intends to exit the IT services business and focus on its core Network, Voice and Data Center services business.
However, the company has been highlighted for another reason - being an early adopter of network virtualization. While the industry is now getting used to the acronyms NFV (network functions virtualization) and SDN (software defined networking), Colt's journey began before those terms were coined, said Mirko Voltolini, Colt's VP of technology and architecture network services, during an interview at TM Forum Live.
In fact, the first virtualization use case was proposed at Colt in 2010, said Adrian Ramsey, Colt's senior manager, network services. The plan was to virtualize the managed L3 CPE router that was installed at the premises of business customers for delivery of Internet access and IP VPN services. Colt developed the virtual CPE (vCPE) capability on the provider edge equipment located in its network and launched the capability during November 2012.
The initial driver for making the virtualization move was cost savings. Layer 3 access devices were expensive, and Colt had to deploy thousands, Voltolini said. As time went on, it became apparent that there were benefits on the service side as well. "You can more easily give customers the ability to change service parameters like bandwidth," Voltolini said. "(You can) activate services faster, so you bring in revenue faster without the need to deploy a physical device."
Today, Colt delivers more than 60% of its Internet access services based on the vCPE concept, but is not ready to switch entirely to a virtualized network. "The technology still needs to mature enough to consider switching to a fully virtualized network," Ramsey said. "Colt's strategy has been to focus on specific, critical use cases where the benefits of considering early adoption of network virtualization outweigh the drawbacks of being an early adopter."
The early transition has not been without challenges. For starters, Colt experienced some customer resistance to replacing a physical device with a virtual one, until they were educated about the benefits of not having multiple boxes on site. "(There are) savings on power consumption, reduced physical space requirements, reduced risk of device failure, and simpler future upgrades since we remove the potential bottleneck of the IP router if the customer wishes to upgrade bandwidth," Ramsey said.
There also was hesitancy from the vendor side about the virtualization trend. "They would dismiss our ideas, suggesting that this concept would never become a reality," Ramsey said. "Hopefully, this phase is over now and all networking vendors have accepted this is a shift in the industry."
So what has Colt learned from the experience? The vCPE business case shows managed L3 service cost reduction between 15% and 50%, depending on the scenario, which Ramsey said allows the company to offer competitive rates.
Colt's experience also has demonstrated the importance of making the switch to virtualization a business transformation, not just a technology change.
"As an operator, we move from managing hardware to managing software, and this has an impact across all parts of the organization, from product development, assurance, delivery, engineering, architecture, etc.," Ramsey said.