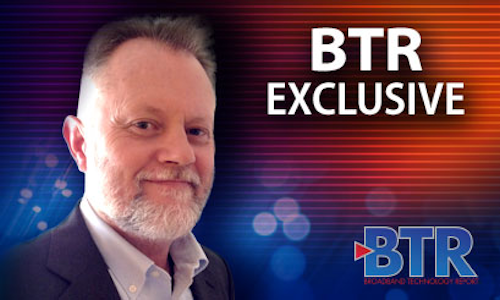 Now in its 37th year, the SCTE/ISBE's Cable-Tec Expo has come to New Orleans for the cable industry's premier annual technology and engineering event. Expo is the place to be for technology trends, both for what's hot now and what's coming next. In the "what's next" department, two trends we'll be watching closely at the show are 10G and wireless technologies, particularly 5G.
10G
Cable's 10G initiative, first announced at the International CES in Las Vegas this past January, has the goal of reaching 10 Gbps downstream via a variety of different architectures, including hybrid fiber/coax (HFC) and new iterations of DOCSIS such as Full Duplex and Extended Spectrum. And it's closer than you might think.
Mark Dzuban, president and CEO of the SCTE/ISBE, told BTR that he expects this year's Expo to be the kickoff to deploying 10G and that 10G will begin to be operationalized next year.
"10G is not just a marketing ploy," Dzuban said. "It's real science. We're actually working on, 'How do you do it?' We look at DOCSIS 3.1 as foundational."
Dzuban said many of the necessary components for operationalizing 10G already exist, such as 1.8 GHz passives, and others are coming soon. 10G silicon is expected to be available in the first quarter of 2020, as well as passives up to 3 GHz.
As for next steps, Dzuban emphasized the Society's partnership with CableLabs, particularly the need to get CableLabs specifications into standards, as well as training. The learning curve for 10G could be significant.
"We're going to have to build something that was a dream 30 years ago," Dzuban said.
Regarding that learning curve, 10G is conspicuous in this year's Expo wireline access network workshop track, with three 10G-specific workshops scheduled, as well as several on Full Duplex DOCSIS 3.1 (FDX), Extended Spectrum DOCSIS and Distributed Access Architectures (DAA) - all of which figure strongly in the cable industry's 10G plans.
The Society is also presenting a half-day pre-conference session dubbed "SCTE/ISBE Mission 10G: Implementing Forward-Looking Capabilities in Your Network" on Monday, Sept. 30.
Wireless
Wireless access networking has its own workshop track at Expo, with 15 such workshops scheduled, five of them dealing with 5G in one way or another - often in terms of opportunities and threats.
In the threat column, 5G - if it lives up to the early claims of 1 Gbps and faster throughput - could compete directly with cable's wireline broadband business. But Dzuban believes the emerging wireless technology represents more of an opportunity than a threat.
"In some regards, it's really very complementary," he said, noting that cable's coming 10G networks will be a logical choice to provide front- and backhaul for 5G wireless providers, just as current cable networks do today. Dzuban also expects 10G and 5G to complement each other in emerging wireless technology applications such as smart cities, autonomous cars and telemedicine, for all of which 10G could provide the underlying wired backbone to support the wireless last few hundred feet.
And some cable operators are getting into 5G wireless directly. For example, GCI (NASDAQ:GLIBA) in Alaska is teaming up with Ericsson (NASDAQ:ERIC) to build its own 5G network in Anchorage; Rogers Communications (TSX:RCI.A) in Canada - a longtime wireless operator in addition to cable - has been steadily upgrading its wireless networks to prepare for 5G, and the company is also opening a 5G innovation lab with Communitech.
Another emerging wireless technology of interest to cable operators is CBRS, Citizens Band Radio Service in the 3.5 GHz band, not to be confused with the 27 GHz band CB radios that truckers use. CBRS is shared spectrum from 3,550-3,700 MHz; the U.S. government, mainly the Navy, uses it for radar, but the bandwidth can be used by others when the Navy doesn't need it. FCC rules for use of the band were completed in 2017.
Earlier this year, Midco began testing CBRS for rural broadband use cases, and the technology also has applications in strand-mounted small cells and the Internet of Things (IoT), among others. Two Expo workshops are dedicated to CBRS, and others covering unlicensed spectrum can be expected to at least touch on it.
See you at the show
In addition to the high spots mentioned here, we'll be keeping an eye out for other interesting new technologies at Expo, and we'll be covering those on our website and through our video show dailies. Hope to see you on the show floor in New Orleans.