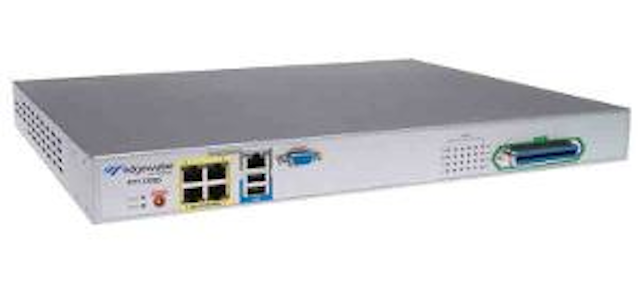 Edgewater Networks
announced the availability of two new enterprise session border controllers (SBCs) in the company's EdgeMarc series: the EdgeMarc 4604 and the EdgeMarc 4576. The systems deliver greater analog port density and are designed as a single solution to scale from small to large enterprise environments. Edgewater's SIP trunking line now includes enterprise SBCs capable of connecting PBXs with Ethernet, dual PRI or up to 24 FXS analog interfaces.
The EdgeMarc 4604 is intended for SIP trunking services. It includes SIP protocol mediation, an Integrated Access Device (IAD) and gateway functionality, QoS, security and network troubleshooting capabilities. Specifications include 24 FXS ports, two FXO ports, four T-1/E-1 interfaces (including two PRI), four 10/100 Mbps Managed Ethernet LAN switch, a 10/100 Mbps Ethernet WAN interface, two USB ports and a V.90 modem.
The EdgeMarc 4576 is designed to replace standalone IADs and is used to connect PBX, key systems and analog phones to SIP trunking services, as well as connecting branch and remote offices to data center communications systems. It combines 24 analog telephone ports and multiple voice and data features into a single enterprise SBC. The 4576 provides 24 FXS ports, 10/100 Mbps Ethernet WAN interface, a four 10/100 Mbps Managed Ethernet LAN switch and two USB ports.