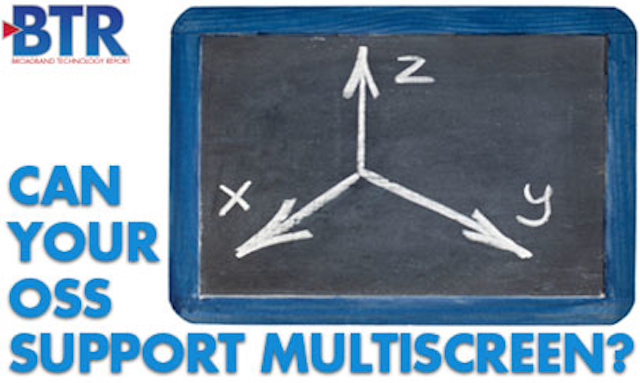 Multiscreen service initiatives will have a profound impact on cable operators' operational support system/business support system (OSS/BSS) infrastructures, according to experts.
To date, the industry has operated with a more or less hardwired and direct tie between the BSS and the conditional access (CA) technology in the field. Essentially, the BSS held the records of what each subscriber household was entitled to. The CA system acted as the agent in the house, allowing or disallowing programs to be displayed. The instructions are very specific to each vendors' products.
In such a scenario -- which still is dominant in the industry -- the OSS layer is deemphasized. One role of an OSS is to manage an abstraction layer that enables devices in a heterogeneous network to understand what they need to do. That isn't as important a function when the systems are largely homogenous.
Now, however, that approach is antiquated. The cable industry is facing a huge demand for the OSS's abstraction functionality as a wild and wooly set of new devices, operating systems, network elements, and types of services descend upon engineering departments like ants at a picnic.
Not only do the
OSS/BSS
stacks need to serve a far broader menu of services, but they must also transition from serving addresses to serving people, each of whom will use the services their cable operator offers differently. "Whether it is an iPad, iPhone, iPod [or any other device], it's about understanding who the subscriber is as a person," said Michelle Nowak,
Convergys'
(
NYSE:CVG
) global head of strategy and solutions for cable, broadband and satellite.
Moving from the very specific to the general represents a massive transition for the industry. However, cable isn't the first industry to face this set of challenges. Ray Bennett, the director of marketing for
Amdocs
' (
NYSE:DOX
) broadband, cable and satellite division, said forward-thinking cable operators are borrowing the IP Multimedia Subsystem (IMS) idea from the wireless industry.
A decade ago, planners recognized that subscribers would demand seamless integration of their wired and wireless networks. The approach they developed puts the spotlight on the subscriber -- not the network. His or her information is separated from the network and is available wherever he or she decides to go. This makes the task of supporting both more efficient. "[The IMS concept] is really being adopted and expanded [by operators]," Bennett said. "As we do in cable, we borrow good ideas, expand them and make them applicable to a broader universe."
It isn't easy, however. The amount of data that is created by multiscreen -- once it is widely deployed, of course -- in addition to high-speed data and voice could overwhelm the existing database technology operators have in place. This really is part of the same challenge: The industry's goal is to create a tight bond with each subscriber. That requires knowing precisely how and where they are accessing all of their services.
The OSS is charged with making that data available in a form the BSS and the network elements can use. But to do this, the industry needs what Steven Collins, the vice president of marketing for
Active Broadband Networks
, calls a "next-gen" OSS that uses cutting-edge database technology. "If you want accurate broadband usage tracking, there is a step function involved," Collins said. "The old technology won't work in this new world."
The bottom line is that the cable industry must get busy adding OSSs to the infrastructure. There are two ways in which the industry can do this. One is to simply build parallel systems -- legacy and IP-based multiscreen -- and perform some software magic to allow both to dip into the vital collected data. The other is to create an integrated single system that serves both the new and old worlds.
Observers say operators are at various stages of recognizing the challenge of the future, which is approaching with increasing speed. "The message: If you don't have layer of OSS between the BSS and various technologies out there, you are going to have a problem," said Brian Cappellani, the CTO of
Sigma Systems
. "Historically, cable operators do not have an OSS .... If there is no OSS layer to help it be transparent to all the systems, you will have a problem. You will have to go in and rewrite [software] for the BSS. That's not how you want to have to [do it]. The reality is many of these systems can't handle that." Cappellani added that there are "clever ways" of adding OSS functionality to existing BSS-centric operations.
Adding and upgrading
OSSs
is the hurdle that cable back offices must clear in order to truly offer multiscreen services. "'A whole new ballgame' is a great way to describe the situation now as compared to a few years ago," Bennett said. "The game is changing, a little quietly, under our feet."
Carl Weinschenk is the Senior Editor of Broadband Technology Report. Reach him at carl@broadbandtechreport.com.